Event Description
A 5-day virtual conference that celebrates the largest startup community in the DMV!
Registration for DC Startup Week 2020 is now OPEN!
As the largest startup network in the DMV area with over 10,000 entrepreneurs in our ecosystem, DC Startup Week is proud to host its 5th annual conference this September. This 5-day long conference will provide you access to engaging content options as well as the opportunity to network with thousands of DMV-based entrepreneurs, investors, and industry leaders. Given the current environment, this year will be our first-ever virtual conference, which will present exciting new opportunities for networking, learning, and professional and personal growth unlike ever before. Whatever part of the startup lifecycle you're in, you DON'T want to miss out.
Sign up TODAY to join thousands of other entrepreneurs in celebrating the vibrant entrepreneurial spirit that makes the DMV area great!
To learn more, visit www.DCstartupweek.org.
FAQs:
Do all attendees need a ticket to enter?
Yes, everyone must have a ticket to participate in DC Startup Week 2020. You will receive a message when to RSVP for sessions via our online platform once you register through Eventbrite. (Schedule is coming soon!)
How can I contact the organizer with any questions?
The best way to contact us is via email: info@dcstartupweek.org.
Do I have to be a founder or a part of the startup community to attend?
Everyone is welcome, and we encourage attendees to have an interest in entrepreneurship or to be interested to become a part of the community. If you are thinking about becoming a founder or working for a startup this event you cannot miss!
Do I have to attend all 5 days of DCSW?
You are welcome to attend as many or as little events as you would like. We offer events throughout the 5 days at all times throughout the virtual platform to allow you to find the best times, days and programs for you to attend. If you would like to attend all events, we would love that as well!
When can I see the schedule?
The schedule is coming soon in the middle of August. If you register now, you will receive an email when the schedule is live.
Organizers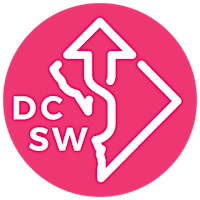 About the Organizers
DC Startup Week (DCSW) is the fastest-growing startup community in the DMV region with over 8,000 entrepreneurs. Once a year, we bring together our expansive community over 5-days to connect, collaborate, share resources and celebrate our thriving ecosystem. Throughout the year, we strengthen our united community by curating inclusive, thought-provoking, and meaningful events and partnerships.
Visited 100 times, 3 Visits today