Event Description
April Monthly Meeting of the DC Food Policy Council's Entrepreneurship and Food Jobs Working Group.
The DC Food Policy Council's Entrepreneurship & Food Jobs Working Group meets monthly. One of our working group's 2021 goals is to support the development of affordable commercial space across the District.
We will focus the April session on commercial kitchen sharing. Please join us on Wednesday, April 7 at 4 pm if you have experience sharing a commercial kitchen or if you have interest in sharing a kitchen in DC! We will have small group discussions as part of the meeting, and we are excited to learn from you and your experiences.
As a part of this year's focus on increasing commercial kitchen access, we'd invite you to complete this survey before our April 7 meeting. The survey asks some basic questions about your kitchen needs or the kitchen space you have that is potentially available for sharing.
Everyone is welcome to join!
Questions? Please feel free to reach out to Caroline Howe at Inno.ED@dc.gov.
Meeting information:
Join us on WebEx
Meeting ID: 180 643 2016
Passcode: FOOD
Join by phone: +1-202-860-2110
Organizers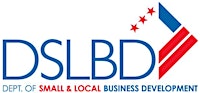 Department of Small & Local Business Development
About the Organizers
The DC Department of Small & Local Business Development is a DC government agency that provides support, training, and technical assistance to all small and local businesses and aspiring entrepreneurs in the District.
Visited 19 times, 1 Visit today