Event Description
Join us on April 7th for the virtual Roast of Carla Hassan, CMO, Citi.
Carla Hassan. Global citizen. Mom to a warrior princess. Champion for girls. Change agent. Neat freak. Karaoke performer. Sneaker head. And now, roast receiver! On April 7th, an army of Carla's closest friends and colleagues will share stories and insights about what truly makes this Citi CMO tick. Join us for a night of virtual laughter, friendly prodding, and tender taunting as we celebrate an industry leader who truly Runs It.
Carla's Roasters Include:
Tariq Hassan, CMO, Petco
Morgan Flatley, Global Chief Marketing Officer and Digital Customer Experience Officer, McDonald's
Shelley Haus, CMO, Ulta Beauty
Andrea Zaretsky, CMO, E*TRADE
Kristen Lemkau, Chief Executive Officer, U.S. Wealth Management, JP Morgan Chase & Co
Gail Tifford, Chief Brand Officer, Weight Watchers
Linda Boff, CMO, GE
Carolyn Everson, VP Global Business Group, Facebook
Tina Davis, Managing Director, Brand Management, Global Marketing Team, Citi
Kenny Mitchell, CMO, Snap Inc.
Michael E. Kassan, Chairman & CEO, MediaLink
Melinda Cheng, Video Strategy Lead, Google/YouTube
Patty Sachs, EVP, Global Groupe Client Lead – Citigroup, Publicis Groupe
Pam Kaufman, President, Global Consumer Products, ViacomCBS
Shelley Zalis, Founder & CEO, The Female Quotient
Ross Martin, President & CXO, Known
Antonio Lucio, Global Chief Marketing Officer & DI&E Advocate
Nikki Darden, Head of Global Integration & Culture, Citi
and more…
Organizers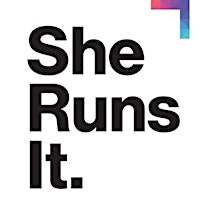 About the Organizers
Our Story We believed in the power of women well before they had a seat at the table.She Runs It was founded in 1912 as League of Advertising Women (later named AWNY), by journal editors Christine and J. George Frederick as a counter to the exclusive, all-male Advertising League. Designed to encourage and promote women's role in the advertising industry, the club held classes and dinners with presentations on advertising best practices, and gave scholarships to encourage girls to pursue degrees in advertising during a time when women weren't even allowed in many universities. Since then, we have re-branded as She Runs It. Our community has grown beyond advertising to all facets of marketing, media and tech. We've also expanded beyond New York, first to Chicago with our eyes on national expansion.
Visited 11 times, 1 Visit today