Event Description
Are you as relevant to your customers as you were a year ago? How do you know? So much has changed in 12 months, it's time to recalibrate.
Discover the ways your competitors are getting closer to your customers in a noisier, more distracted marketplace. You'll learn (and have a 90-day, all-access pass to the entire six hours of sessions):
• how top-performing distributors innovate core business models today,
• what the most productive teams in distribution look like in 2021, and
• the new equation for success when it comes to culture, talent and creating a competitive customer experience.
Learn more about the Summit, speakers and agenda here!
Organizers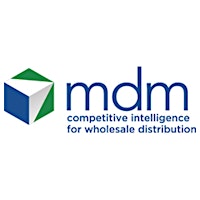 Modern Distribution Management
About the Organizers
Modern Distribution Management (MDM) is a Colorado-based market research and media company that is the most trusted resource for market intelligence to wholesale distribution executives and industrial product marketers through its two brands - Modern Distribution Management and MDM Analytics. Since 1967, MDM has been the definitive resource for distribution management best practices, benchmarking, trends and competitive intelligence through its market research, analytics, reports and conference services.
Visited 40 times, 1 Visit today