Event Description
** ONLINE EVENT **
Join ATHENA Akron virtually via Zoom as we welcome Traci J. Buckner, Executive Director, Akron Children's Museum. Traci will tell us her story and answer questions from our moderator, Carolyn Felton, Community Volunteer and ATHENA Akron board member. We will then open a chat for questions from our attendees.
Cost: There is no charge for this program; however, donations are welcome. Fifty percent of your donation goes to a non-profit that serves women during this difficult time.
An email containing a private Zoom link and a PDF copy of Traci's full bio will be sent to all registrants on Tuesday afternoon, April 6th.
Traci J. Buckner
A distinguished educational leader and author, Traci Buckner is executive director at Akron Children's Museum, a vibrant, interactive children's play space located in the heart of downtown Akron. Buckner joined Akron Children's Museum after 18 years of service in the Akron Public School system, where she served as the founding instructional leader of the National Inventors Hall of Fame School…Center for Science, Technology, Engineering and Mathematics Learning and as the Director of Specialty Programs. Traci is the author of the children's book, We All Make Tracks, and Stem Leadership, a guide on creating a STEM culture in a school or district. She is also a national speaker and community innovator, and was previously featured as one of Akron's change makers in Akron Life magazine.
Organizers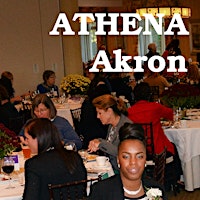 About the Organizers
ATHENA Akron, Inc. is a nonprofit organization with the mission to provide leadership support, development and education for women in the Akron area. ATHENA Akron was founded in January 2015 as an independent 501(c)(3) and is an affiliate of ATHENA International.
Visited 17 times, 1 Visit today