Event Description
Online Webinar – Virtual Training
Do your employees need forklift training? Now you can train them with your own certified in-house trainer.
Powered industrial truck accidents cause serious injuries, property damage, and disruptions to your business. That's why OSHA requires your employees to complete mandatory training.
This program enables your company's in-house trainer to teach and evaluate your forklift operators and educate nonoperators about working safely around powered industrial trucks.
Takeaways:
Updated train-the-trainer manual
Electronic training aids and resources
Instructor's training guide
Operator's (student) guide and written test
Vehicle inspection checklist
Sample practical driving exercises
Certificates of completion
Wallet-size vehicle operator cards
Training tips
Price includes all text and materials. Materials will be mailed to registrants prior to the training session.
Certificates will be mailed out upon completion of the training session.
Please Note: This training session is held entirely online. Attendees must have the ability to use a camera and microphone. Registrants will be provided a webinar link prior to the training session.
Organizers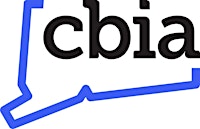 About the Organizers
The Connecticut Business & Industry Association (CBIA) is fighting to make Connecticut a top state for business, jobs, opportunities and economic growth.
Visited 13 times, 1 Visit today