Event Description
Learn the essentials of Adobe Illustrator, develop graphic editing design skills, and get a headstart to using MakerSpace machines!
**All MakerSpace Design Lab Workshops will be held ONLINE for the Spring 2021 semester.
*This event is open to current NYU students, staff, or faculty only. You will be required to sign in to zoom with your nyu.edu email.*
Whether you're laser cutting, designing graphics, or photo editing, Adobe Illustrator can make achieving complex tasks easier and faster. Join MakerSpace TAs Sammy & Barry to learn the importance of design software in the industry and fundamental concepts needed to create a design in Illustrator. You can expect to learn more about the interface, drawing vector shapes, adding polished typography, and much more! These skills will be implemented and attendees will have the opportunity to design a project of their own using the software.
Before you attend the workshop, you must have Adobe Illustrator installed. NYU faculty, students, and staff have free access to the Adobe Suite. To install, please follow the instructions here: https://www.nyu.edu/life/information-technology/getting-started/software/adobe.html
**All MakerSpace Design Lab Workshops will be held ONLINE for the Spring 2021 semester. A zoom link will be sent out to all participants before the event.
Organizers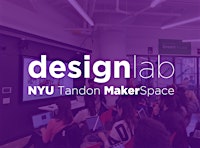 Design Lab @ NYU MakerSpace
About the Organizers
The NYU MakerSpace is a cutting edge lab aiming to foster projects at the intersection of technology, creativity and innovation. It features rapid prototyping and PCB production equipment, as well as advanced machining and testing capabilities. The MakerSpace hosts the Design Lab which provides NYU students with opportunities to ideate, experiment, prototype, and build their ideas.
Visited 93 times, 1 Visit today