Event Description
apidays LIVE NEW YORK – API-driven Regulations for Finance, Healthcare, and the Public Sector | July 28 & 29, 2021
Many regulations are forcing incumbents that have never been open – neither on the cultural, nor the technical side – to open APIs. And these companies face huge challenges to make it happen resisting the attack by startups and innovative players who are going faster.
In the USA, it is the healthcare industry regulation that started to promote using APIs to open systems for more interoperability to benefit end-users, with programs like EHR, FHIR, LH7, etc.
In Europe, PSD2 and Open Banking UK have led the path to open banking and are followed by more than 40 countries, which are adopting API-led regulations to force banks to open APIs.
Insurance may be the next fortress to fall if the industry doesn't proactively do it before regulators. Now, the US Federal Trade Commission is also evaluating the opportunity of regulation for the US Banking industry.
Last but not least, the Public Sector and Governments are also pushing for the use of APIs to support their open data policies and deliver value to ecosystems.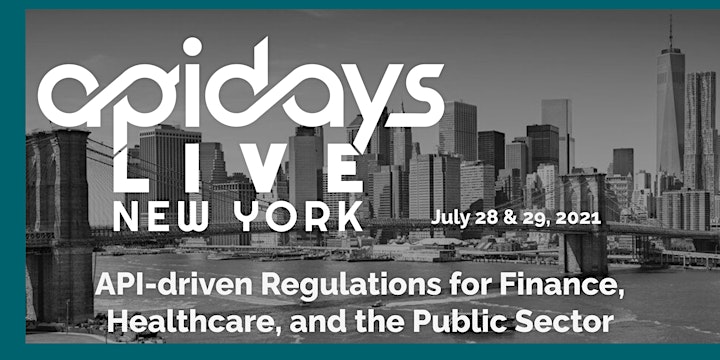 In 2020, our line-up of SPEAKERS includes:
Tanya Vlahovic, Principal Software Architect at eBay
Gabriel Cismondi, Lead Engineer / Architect at HSBC
Maria Kessler, Digital Partnerships at The Metropolitan Museum of Art
Maciej Treder, Senior Software Development Engineer at Akamai Technologies
Asanka Abeysinghe, Chief Technology Evangelist at WSO2
Nazanin Delam, Senior software engineer at Netflix
Seena Ganesh, Sr. Director, Visa Developer Platform at Visa Inc.
Daniele Bernardi, Senior Partner Engineer, Developer Relations at Twitter
Derric Gilling, CEO at Moesif
Anand Tamboli, CEO at Anand Tamboli & Co.
Guillaume Jeannic, IT Architect at Cbp Group
Alan Glickenhouse, Digital Transformation and API Business Strategist at IBM
Gregory Koberger, CEO at ReadMe
Inon Shkedy, Head of Security Research at traceable ai
Jeremy Glassenberg, Director of Product, APIs at Deserve
Boris Vernoff, Chief Data Architect at ADP, Ltd.
and many others
In 2020, we learned API strategies on many business and technical topics including Digital Transformation powered by APIs for Open Banking and Insurance, API Governance for Banking and Financial Services, API Driven Business Models for Open Banking and Open Insurance, Healthcare Industry and APIs, Retail Industry and Commerce with APIs, API Design and Guidelines, APIOps Lifecycle, Developer Experience, API Security and Identity and Containers, Microservices and Service Meshes.
Organizers

apidays: World's leading series of API Conferences
About the Organizers
Created in 2012 in Paris, apidays has organized 50+ events in 13 countries, gathering over 30,000 attendees and 2,000+ speakers. Its aim is to democratize and evangelize the opportunities and the use of APIs for corporations and businesses to fully enter the next wave of the digital transformation, the era of automation.Watch Featured Conference Videos and Expert Talks here. Watch the 2020 conferences on-demand here.
Visited 132 times, 2 Visits today