Event Description
Attended our scraping code-along last month? Wish to get even better at scraping? This small-sized masterclass is just for you!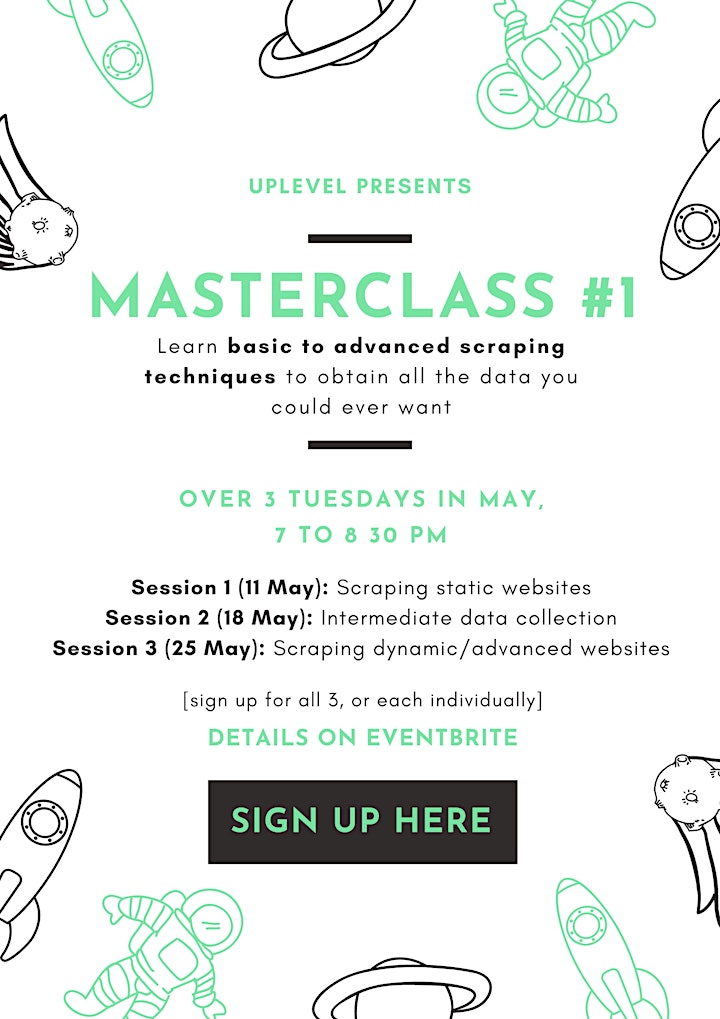 Format
UpLevel's popular code-along style
Session sizes limited to 30 students to ensure individualized attention
Held online (over Zoom), recordings of each session will be made available to attendees
What You'll Learn
Session 1: Scraping static websites (11 May)
Use BeautifulSoup and the requests library to scrape basic static websites
Clean and organize the scraped data into DataFrames
Practice thinking in terms of HTML DOM
Session 2: Intermediate data collection (18 May)
Combine requests and web development knowledge to perform data collection
Acquire data from popular e-commerce sites such as Zalora, Lazada, Carousell, Shopee, etc.
Learn strategies to identify key sources of data on a platform to make data collection easier and more efficient
Organize JSON files into DataFrames
Session 3: Scraping dynamic/advanced websites (25 May)
Use Selenium, a testing tool with multiple uses
Scrape information from dynamic or hard-to-scrape websites such as a public Facebook group
Learn strategies to make data collection easier, faster, and simpler while tackling common pesky challenges in scraping dynamic sites
Clean dirty scraped data into neat DataFrames
How to Sign Up
2 Options
Purchase a ticket for all 3 sessions at $50. If you are purchasing a ticket for all 3 sessions, please select "11 May" and make the purchase only once.
Purchase individual session tickets at $20 each. Select the date that corresponds to the session you wish to attend, then make the purchase.
Datanaut Exclusive
20% off (use the discount code sent to your email address; please contact rachel@uplevel.work if you have not received it)
NB: Tickets sold are strictly non-refundable. All ticket prices are subject to tax and the Eventbrite processing fee.
About the Instructor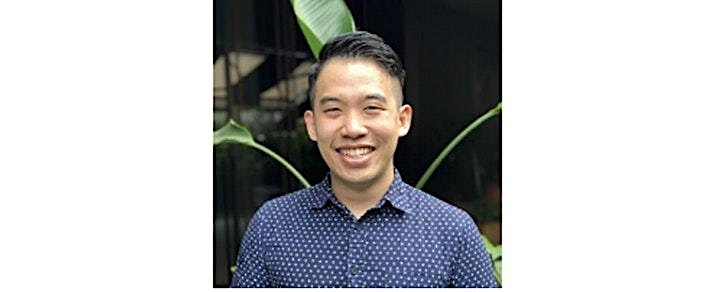 Jackie is co-founder and chief instructor of UpLevel. He was previously chief academic officer of UpCode Academy and has taught over 500 students in Python and data science. He holds a PhD in applied machine learning. He strongly believes in project-based learning, where students get to do end-to-end projects and build real data product prototypes.
In real-world experience, he has assisted regional MNCs and SMEs in their digital transformation, including the design of a P2P algorithm for the unbanked population in SEA. He is also an international speaker on entrepreneurship and AI. Prior to UpLevel, Jackie was co-founder of InsurTech startup fundMyLife, which made use of deep learning to match consumers with financial advisors. He has also been awarded Forbes 30 under 30, among other accolades.
About the Organizers
Uplevel elevates engineers and their managers with data-driven insights so their teams are empowered to do their best work.
Visited 10 times, 1 Visit today