Event Description
San Jose State University's chapter of Society of Women Engineers welcomes you to their annual WOW! That's Engineering event.
San Jose State University's chapter of Society of Women Engineers welcomes you to their annual WOW! That's Engineering event. Girls from local high schools are invited to the Diaz Compean Student Union on the SJSU campus to learn about engineering.
The event includes hands-on workshops that will allow girls to explore the different types of engineering fields, including software, biomedical, aerospace, and many others! There will be an Engineering Design Challenge that invites attendees to design a solution using engineering best practices. There will also be a keynote talk led by an established female engineer from the industry who will be sharing her personal experiences and career route into the tech world. We hope that the attendees leave with a new perspective about the engineering industry, and view it under a positive light that it is a creative and booming field.
**Registration final deadline is March 18th**
When: Saturday, March 25th
Where: One Washington St, San Jose, CA 95192 (Diaz Compean Student Union at San Jose State University)
Companies participating: Lockheed Martin, LinkedIn, Johnson & Johnson, and more!
Follow us on Instagram for updates: @swesjsu.wow
ITINERARY
8:30am – 9:00am Student Registration + Breakfast
9:00am – 9:20am Staff Introductions + Conference Overview
9:20am – 9:30am Dean Speech
9:30am – 10:00am Keynote Speaker
10:15am – 11:15am Workshop #1
11:15am – 12:30pm Student Panel + Lunch
12:45pm – 1:45pm Workshop #2
2:00pm – 3:15pm Engineering Design Challenge/Presentations + Snacks
3:30pm – 4:00pm Prizes + Closing Remarks
ENGINEERING DESIGN CHALLENGE
Hosted by Lockheed Martin, here is this year's Engineering Design Challenge prompt:
How can you design and build a cost efficient moon rover using physics principles and available sustainable materials?
Students will work in small groups for one hour to produce a final moon rover model that will be judged by representatives from Lockheed Martin for the opportunity to win various prizes.
Tickets
Ticket prices for this event are $10 per student. However, if you have any financial issues and cannot pay the fee, feel free to contact us and we'll do our best to work something out.
Important Note: When registering for the event, please upload all waivers required. If you are unable to do so by the end of the registration period, your ticket will be dropped with no refund.
For any additional questions, comments, or concerns as well, you can reach us at swesjsu.wow@gmail.com.
About Society of Women Engineers at SJSU
The Society of Women Engineers of San Jose State University aims to create a strong community of women empowering each other in STEM fields. Some of our initiatives include technical talks, company tours, networking sessions, and outreach programs for high school and middle school students such as WOW! That's Engineering and SWE ++. Through these events, we hope to foster female empowerment in engineering, prepare our members for industry, and create strong female leaders.
______________________________________________________________________________
Organizers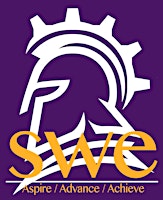 About the Organizers
The Society of Women Engineers (SWE), founded in 1950, is a not-for-profit educational and service organization. SWE is the driving force that establishes engineering as a highly desirable career for women through an exciting array of training and development programs, networking opportunities, scholarships, outreach and advocacy activities, and much more. SWE empowers women to succeed, advance in those aspirations and be recognized for their life-changing contributions and achievements as engineers and leaders.
Visited 5 times, 1 Visit today