Event Description
NFT Orlando is a single day conference which covers Non-fungible Token trends and happenings both nationally and in Central FL.
Orlando is one of the fastest growing tech regions in the United States. However, if you are local and want to attend an NFT conference, you have to travel to New York, Los Angeles or Miami. NFT Orlando is changing that in 2023! We are hosting a one-day conference in Downtown Orlando at the Embassy Suites Hotel on Saturday, March 25, 2023.
This inaugural conference will be an exclusive one-day event limited to 300 people. NFT Orlando will feature presentations NFT market trends, wallet security, case studies on unique utility offerings, and much more. The event will be especially unique because it will also focus on NFT and Web3 activity happening in Central Florida. Attendees will learn about NFT drops from local creators, how major local corporations are leveraging NFTs, and how Orlando is building a presence in the Metaverse.
Whether you are a beginner who has a curiosity about NFTs, an experienced smart contract developer, or someone in between, this is THE event for you. NFT Orlando will be the springboard that helps our community continue to evolve as a hub for the NFT industry.
Organizers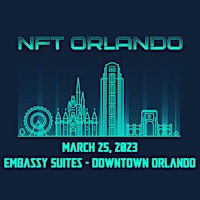 Visited 4 times, 2 Visits today