Event Description
All your questions about career improvement answered!
Every week inside Founding Membership our coaches hold brave space conversations around the challenges and opportunities our members face as they navigate their careers. And we are opening up these conversations to the public and extended Tech Ladies Community so that you can ask your questions as well!
Come discuss those topics that are most urgent to you as you navigate your job search and career growth. If you are currently searching for your next role or just want to be proactive in your career development, then please join us!
This call will be co-hosted with Lekisha Middleton, Tech Ladies Community Manager and Executive Coach, and Wendy Saccuzzo, Head of Talent & Hiring Partnerships at Tech Ladies and Career Coach.
Why these facilitators?
Lekisha Middleton (she/her) is a Career Coach and Community Manager at Tech Ladies. She is also the Founder of The Good Success Network, a management consulting and executive coaching firm that focuses on creating a future workforce that is equipped, diverse and inclusive. Lekisha is a proud techie and human advocate, who is driven by the desire to empower people, especially underrepresented and minoritized groups, with the tools and strategies to achieve good success and make a positive impact in the world.
Wendy Saccuzzo (she/her) leads Hiring Services with Tech Ladies. She nerds out over anything recruiting and tech hiring related, and she's worked in tech for most of her career (Customer Success, Career Services, Sales). She's also a career coach and counselor with a focus on job search, interviewing, career transition, and leadership, mostly working with underrepresented people in tech. You can find her on Twitter and LinkedIn.
Details/Info:
We will email you login upon registration, one week, 1 day, and 1 hour before the event.
FYI: Ticket sales stop at 10am PT/1pm ET to ensure everyone gets log in info
Don't see your sign in link? Check your SPAM for an email from Tech Ladies or Eventbrite.
Still don't see it? Drop a line to webinars@hiretechladies.com
YES, webinars are recorded! If you buy a ticket, we'll send you a recording to watch approximately 1 week after it airs.
Please also note that we are unable to provide refunds after the webinar has ended.
A note on Tech Ladies Events:
Tech Ladies events are open to all genders.
Please review our Code of Conduct before attending a Tech Ladies event.
Interested in what we're doing? Join Tech Ladies
Organizers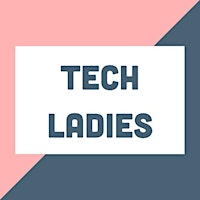 About the Organizers
Tech Ladies connects you with the best opportunities in tech. We connect companies with the best techmakers.  Above all else,  we're  a community  that supports each other. 
Visited 6 times, 1 Visit today