Event Description
ㅤ
Overview
Organization Development professionals seldom practice OD in its purest form but rather apply OD models, concepts and principles within an organization engaged in support of specific organizational initiatives.
Fitz-enz said it best in his book How to Measure Human Resources Management when he stated, "The basic question which faces the organization development community is not, 'what is the newest or best technique?'" "It is, 'can OD be practiced so that it can prove that through its efforts organizational health and effectiveness were visibly improved?'" (p. 199).
This webinar explores how OD, not as a stand-alone approach, model, program, or tool, but rather as a supporting act to the specific initiative assists organizational leaders to ask the right questions, to engage organizational members in the right way, and to suggest the incorporation of the right tools and techniques so that change occurs enterprise wide and tends to last.
Fitz-enz, J. (1984). How to Measure Human Resources Management. New York, NY: McGraw-Hill Book Company.
Objectives
Describe the difference between organization and organizational development.
Explain how Lean Sigma fits with other continuous improvement methodologies.
Discuss how an organization development (OD) approach benefits Lean Sigma initiatives.
Describe how OD/Lean Sigma methodologies have been applied in practice.
Outline lessons learned from employing an OD approach for Lean Sigma initiatives.
Target Audience
Organization Development and Change Professionals
Talent Development / Talent Management Practitioners
General Managers / Directors / Leaders
Human Resource Managers and Generalists
Performance Management Facilitators and Consultants
Organizational Effectiveness Professionals
Outline
Organization Development vs. Organizational Development
Differentiate Lean and Six Sigma Methodologies
An OD Approach for Achieving Operational Excellence
Case Scenarios Descriptions
Lessons Learned
Presenters
Dr. Eric J. Bergstrom

Ph.D., Workforce Education and Development, Penn State
M.Ed., Training and Development, Penn State
B.S., Human Resources Management, Penn State
Dr. Eric J. Bergstrom has taught undergraduate credit and noncredit business management courses as well as graduate training and development and organizational development courses. He has facilitated leadership development programs for organizations across a variety of industries focused on strategic planning processes, continuous improvement processes, human resource development, and organization development. His practical and research interests include individual career development, leadership competency modeling and development, human resource development, and organizational process improvement. Dr. Bergstrom regularly teaches WFED 451 Lean Sigma as part of our MPS-OD&C degree and Operational Excellence Certificate program.
Dr. Wesley E. Donahue, PE, PMP, 6σ

Ph.D., Workforce Education, Penn State
MBA, Clarion University
B.S., Civil Engineering, Penn State
Dr. Wesley E. Donahue is the coordinator of the online Master of Professional Studies in Organization Development and Change and an instructor of related courses and programs. An experienced researcher, developer, and leadership consultant, he has an extensive manufacturing, engineering, sales, and management background, having started and operated businesses for more than 30 years. Dr. Donahue is a registered professional engineer, six-sigma black belt, and author of a host of education and training materials including the books Building Leadership Competence and Unlocking Lean Six Sigma.

Organizers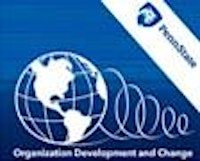 About the Organizers
pennstateodcprogram@gmail.com
Visited 26 times, 1 Visit today