Event Description
She Runs It Programs for ERGs
Join She Runs for our next session, Active Allyship: Changing Inward Thought into Outward Action
She Runs It Programs for ERGs
Employee Resource Groups are good for business. They accelerate leadership development, improve retention rates, fill recruitment pipelines, and more. To help feed and fuel our Corporate Alliance Partner ERG teams and efforts, She Runs It has created an exclusive mini-series to deliver compelling content to your teams free of charge. If you are a member of one of your company's ERG groups, this event is for you. Feel free to bring a colleague who is not a member yet, so they can learn more about She Runs It and take advantage of a free membership through our partnership with your company!
Join She Runs for our next session, Active Allyship: Turning Introspection into Outward Action, to learn what active allyship looks like in the workplace, and how to develop your own steps and strategies to create equality. Members of our industry will discuss how they moved beyond advocacy to become active allies for their coworkers. From taking on sponsorship or mentorship roles to demonstrating solidarity for colleagues who are members of marginalized communities, their actions ignited a measurable impact. The session will also include an intro to our organization hosted by our membership team. You'll learn about the many She Runs It member benefits that you can take advantage of for free as an employee of a corporate alliance partner company.
Organizers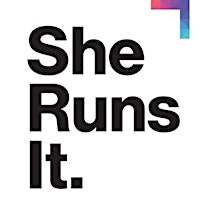 She Runs It
1216 Broadway, 2nd floor, New York, NY 10001
(415) 938-3858
events@productschool.com
About the Organizers
Our Story We believed in the power of women well before they had a seat at the table.She Runs It was founded in 1912 as League of Advertising Women (later named AWNY), by journal editors Christine and J. George Frederick as a counter to the exclusive, all-male Advertising League. Designed to encourage and promote women's role in the advertising industry, the club held classes and dinners with presentations on advertising best practices, and gave scholarships to encourage girls to pursue degrees in advertising during a time when women weren't even allowed in many universities. Since then, we have re-branded as She Runs It. Our community has grown beyond advertising to all facets of marketing, media and tech. We've also expanded beyond New York, first to Chicago with our eyes on national expansion.
Visited 13 times, 1 Visit today