Event Description
Join VetsinTech for a special National virtual Employer meetup – Advice from Recruiters
Join VetsinTech to discuss Tech Career Opportunities! We will be providing Mentors, Hiring Managers, Recruiters from Accenture, Adobe, ADP, Amazon, Booz Allen Hamilton, Comcast, DraftKings, Elastic, F5, Facebook, Genentech, Google, IBM, Lytx, NetApp, Palo Alto Networks, PNC, Reddit, Slack, Tibco, Uber, and others from VetsinTech Employer Coalition for a unique experience with VetsinTech.
What: VetsinTech Virtual Employer Meetup!
When: Wed, 09/29/2021 at 5:00 PM – 6:30 PM PDT
Where: https://www.hopin.com/events/vetsintech-national-employer-meetup
Who: Military, Veterans, and Military Spouses of all experience levels are welcome.
AGENDA:
5:00 pm: Welcome
5:10 pm: Employers give 1 min pitch regarding their hiring, open jobs/skills needed
5:30 pm: Panel Discussion – "Advice From Recruiters" with Reddit, Nasdaq, PNC
Room #1: Booz Allen Hamilton | Palo Alto Networks | Tibco | Elastic

Room #2: Amazon | Facebook | Accenture | Comcast | Genetech | PNC

Room #3: Google | Adobe | IBM | Reddit | Samsung

Room #4: Uber | Slack | Lytx | Nasdaq | NetApp
6:25 pm: Return to main Event / Wrap-up
6:30 pm: Event adjourns
Organizers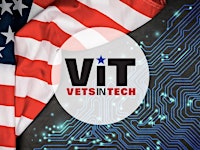 About the Organizers
Website: https://vetsintech.co/organizer/vetsintech-4/
Visited 86 times, 1 Visit today