Event Description
Explore new and ongoing work in from talented undergraduate students.
About
This fall, Columbia University and Barnard will be hosting the inaugural Undergraduate Computer and Data Science Research Fair to showcase undergraduate student work in data science and related fields. Applications will be accepted along three thematic tracks and in a variety of formats to highlight the diversity of opportunities that data science affords researchers. Please consider applying if you are an undergraduate student and your work broadly engages with the ever-expanding role of data in our society today!
Event Date: Friday, November 11, 2022 (2:00 PM – 6:00 PM)
Location: Barnard Diana Center, The Event Oval, Lower Level (LL1)
Co-Hosts:
The Data, Media and Society Center at The Data Science Institute, Columbia University
The Department of Computer Science at Columbia Engineering
The Vagelos Computational Science Center at Barnard College
Tracks & Formats
Student research will be curated and displayed within three tracks:
Data Science and Society
Interdisciplinary Data Science Applications
Data Science and Computer Science Research
The research fair will accept a range of projects and formats, including:
Research Posters
Table based Demonstrations and Visualization Projects
Startup and Entrepreneurial Projects
Creative Tech, VR/AR installations, and Performances
Agenda
Friday, November 11, 2022:
2:00 PM: DOORS OPEN: PART 1 (90 minutes)
Attendees will check in and roam around the open floor plan. This is a grazing style event, in which students will be posted by their projects. Attendees should feel free to engage with the work, ask questions, and provide helpful feedback.
3:30 PM: Mid-Point Reception. Food and beverages will be served! Students will take a break to network with attendees and each other.
4:00 PM: FAIR CONTINUES: PART 2 (90 minutes)
5:30 PM: Closing Announcements. This session will include plenary remarks from DSI and Barnard leadership. Our research fair hosts, chairs, and special guests will share a few words of encouragement for the students. Prizes will also be announced at this time.
6:00 PM: Research fair ends.
Undergraduate Students: Apply!
Application Deadline: Monday, October 17, 2022
Applications are open to undergraduate students across Columbia and Barnard. We encourage you to apply to exhibit your work at the fair.
Organizers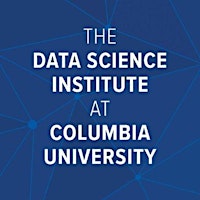 Data Science Institute, Columbia University
datascience@columbia.edu
About the Organizers
Contact DSI: datascience@columbia.edu
Visited 8 times, 1 Visit today