Event Description
Join us in the Ask & Give Lounge as we talk through the MVPs of your essential marketing assets to get started and how to use them.
Grab your virtual seat in a lounge meant for women to connect and excel in all things digital and life. This one-of-a-kind virtual lounge may be the best 60-minutes you take for yourself all week. Dare we say, year.
Every Friday, Together Digital's CEO, Amy Vaughan invites one amazing woman in digital to join us in an informational and inspirational talk followed by an Ask & Give Exchange.
Our Ask & Give Exchange has helped thousands of women across the country to negotiate salary and title promotions, start their own businesses, and resolve challenging workplace issues in a safe space, confidentially.
Register now and reserve your seat!
THIS WEEK'S TOPIC:
Launch marketing is tough, especially when you have to DIY it. Little or no data to draw from, even less time to execute, and not a lot of runway to get it right.
We'll talk through the MVPs of your essential marketing assets to get started and how to use them to create something actionable.
Building your marketing personas
Mapping your buyers' journey
Identifying your key messages
Planning actual campaigns and content
The result of this work is an actionable, rock-solid, strategically-informed content plan, designed to ensure growth and sustainability for purpose-driven founders.
THIS WEEK'S GUEST:
Lindsay Dayton LaShell is a marketing activist and the CEO of Diamond + Branch, a marketing consultancy that serves womxn, queer, and BIPOC entrepreneurs and nonprofits. Her work is to help these organizations achieve financial sustainability and growth through marketing that is both empathetic and efficient.
Not a member yet?
JOIN OUR COMMUNITY:
Try your first month for the price of a cup of coffee ☕️
Access to our 24/7 online community
Enriching virtual & in-person events nationwide
Access to Member-Exclusive Ask & Give Circles
Solutions & support via our Asks & Gives Exchange
Lasting, lifelong friendships and connections
Organizers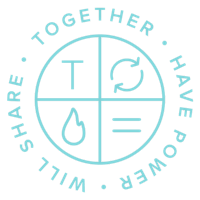 About the Organizers
Together, we inspire and empower one another through our sharing of knowledge. Our members report they feel more confident and more equipped to elevate their career at a faster pace. We are the network where women help women succeed in digital - and life.
Visited 2 times, 1 Visit today