Event Description
The Future is Black x STEAM URBAN Expo
KHEM FEST presents:
The Future is Black x STEAM URBAN Expo
Join us! End of Summer Maker Space Drop-In / Drop-Off
FREE but registration is a must
Open to young people ages 5-15
Monday August 22-Friday August 26th
12pm-4pm | *Lite Lunch & Snack |
Location: Hahnes & Co. The Future is Black Afrofuturism Art + Tech Gallery
609 Broad St. Newark NJ 07102
Celebrating Black Animation, Gaming, & Comic Creators.
Exploring our five senses by engaging in the Expressive Arts, Exploring Nature & Herbal Indigenous Plant Knowledge & Becoming Scientists & Visionaries!
For more information go to info@steamurban.org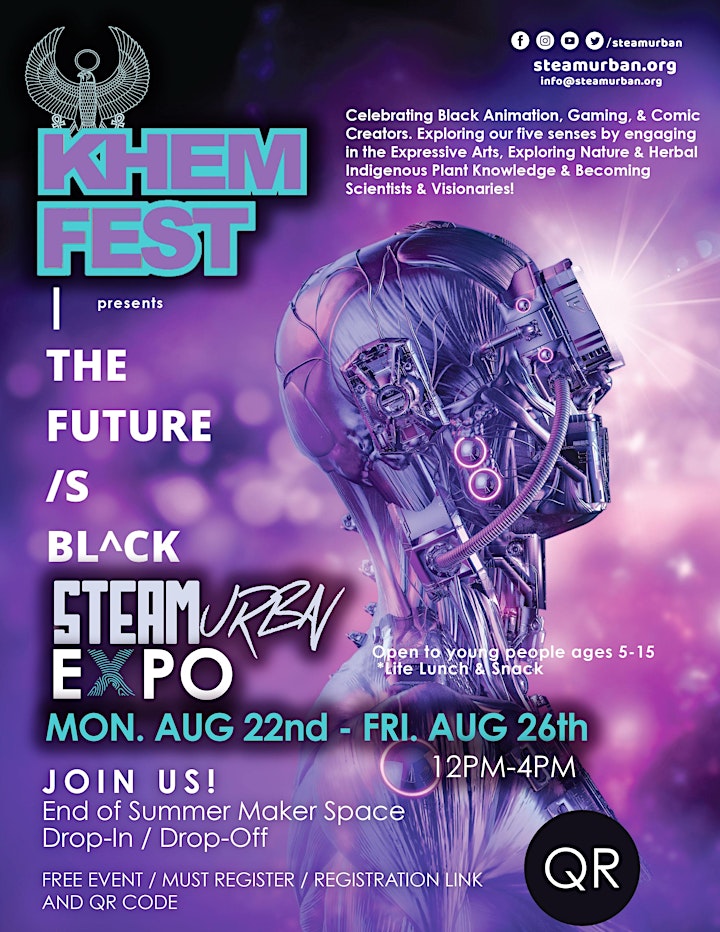 Organizers

About the Organizers
Phocused Black Star Media (PBS Media) was developed in 2005 as an entertainment studio that works diligently with the members of its creative team to unleash its stories and characters across all media, including but not limited to film, television, consumer products, home entertainment and interactive games. Our purpose is to design, create & innovate new projects that speak to the level of consciousness for all audiences.    PBS Media business operations are comprised of the development and distribution of our flagship graphic novel series: "P.B.Soldier" and "P.B.Soldier Unlimited" in the form of comic books, graphic novels and web comics.    PBS Media has developed an exciting graphic media for the specific purpose of advancing the company mission of raising the consciousness of the community. Remember Stay Phocused and Always Resist.
Visited 7 times, 1 Visit today