Event Description
Annual conference of New York State Communication Association (NYSCA), an organization of communication faculty, students, & professionals.
The communication is the powerful basis of all human contact. The verbal and nonverbal symbols that we utilize might sound and look different, but the purpose we have for communicating is universal .We may choose to interact in face-to-face, or via EMC and CMC, however, we employ the same activity to understand context and conduct, explore relationship between symbolic action and other forms of human behaviors, and address fundamentals of right and wrong, permitted and prohibited, persuasion and propaganda in relation to debates taking place in our interconnected global village.
The 78th annual conference of the New York Communication Association (NYSCA) invites a wider range of interdisciplinary scholarship that rethink dimensions of conduct and pragmatic interplay beyond media, examine convergence and divergence in both national and international contexts, explore potential outcomes contributing to both micro-and macro-level political changes including the implementation of new legislation, and address the opportunities and the challenges associated with the transformation of public policy and the public sphere, freedom of speech and civil discourse, and research innovation.
Keynote presenters for 2020:
Evolving Norms for Communication Research: The Costs and Benefits of a Culture of Transparency
Dr. Nicholas David Bowman, Texas Tech University
Spatial Debilities: Slow Life and Carceral Capitalism in Palestine
Dr. Jasbir K. Puar, Rutgers University
Learn more about the conference here.
Organizers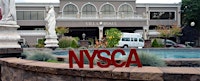 New York State Communication Association
About the Organizers
The New York State Communication Association (NYSCA) is an organization of faculty, students, and professionals in communication – who are dedicated to studying, improving, and applying the principles and practices of communication to all walks of life.
Visited 44 times, 3 Visits today