Event Description
Spring Fest 2021 is an online fair of calligraphy and lettering presentations, featuring artists from around the world!
Spring Fest 2021 is even bigger and better than our popular annual Holiday Fair. We have instructors from a variety of countries and disciplines, offering everything from traditional calligraphy and contemporary lettering to the latest computer-aided apps and programs.
Register today and stay up to date with sneak peeks leading up to June 6th. Event details such as useful material lists and live video links will be sent to registrants in advance of Spring Fest.
Enjoy presentations by these incredible calligraphers and artists: Barbara Wolff, Pat Blair, Ying Chang, Eduardo Aire Torres, Gina Jonas, Massimo Polello, Heather Held, Judy Detrick, Kisyuu, Izzy Pludwinski, Marina Soria, Riccardo Ali, Tamer Ghoneim, Gui Menga, Veronica Cruz and more!
Organizers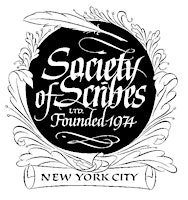 About the Organizers
The Society of Scribes promotes the study, teaching and practice of calligraphy and related arts in New York City.
Visited 7 times, 1 Visit today