Event Description
Spark NLP for Healthcare Data Scientists – Training & Certification
This two-day workshop for practicing data scientists will enable you to use and exptend John Snow Labs' Healthcare NLP library. You will run live Python notebooks that walk through clinical entity recognition, entity resolution (mapping entities to medical codes), assertion status detection (i.e. negation detection), relation extraction, and de-identification. You will also learn how to train and tune your own models for these tasks – and how to choose which pre-trained models to start from.
The workshop is organized in two four-hour-long sessions, each followed by self-guided coding. This is a live online workshop whose instructors are current lead contributors to the Healthcare NLP codebase.
Organizers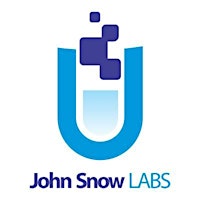 About the Organizers
John Snow Labs is an award-winning AI company that helps healthcare and life science organizations put AI to work faster, providing high-compliance AI platform, state-of-the-art NLP libraries, and data market.
Visited 9 times, 1 Visit today