Event Description
Meditation is Yoga for your Mind: Dig into Yourself using sound, light movement, and relaxation.
This soundbath is an extended sound-aided meditation. We will begin with some light stretching and priming the body to sit or lay for an extended period. After stretching participants are invited to close their eyes and look within. The music uses pre-recorded tracks full of healing frequencies combined with live instrumental performances on a variety of flutes, saxophone and singing bowls. In the middle we will do a brief guided meditation before continuing with the sonic meditation. This format is particularly good for people who have a difficult time concentrating on meditation as well as those looking to expand and deepen their practice.
Jacob "NTHNL" Rudin is a classically trained composer and pianist turned multi-flutist and soundhealer. Having produced electronic and acoustic music in a wide variety of contexts since 2012, Jacob began experimenting with binaural beats and healing frequencies. Jacob incorporates elements of many types of music including ambient, jazz, balkan and contemporary classical music in order to create finely crafted healing music that is as musical as it is medicinal.
Come early and attend the Upcycled Eye Pillow Workshop with DIYer Rachel Hearn.
No experience required. All materials will be supplied BUT please feel free to bring a textile (pre-loved clothes work too) to upcycle into your eye pillow!
About the Sustainable Fashion Community Center
Located in East Harlem, the SFCC is home to The Swap Shop, The Gift Shop, Plant Swap Station, and Triple Bottom Line Library. Your one stop shop for living a more sustainable lifestyle.
Don't forget to clean out your closet. Your ticket includes access to The Swap Shop where you can select up to 10 pieces.
Organizers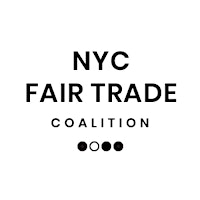 About the Organizers
The NYC Fair Trade Coalition is a grassroots organization that promotes fair trade businesses and retailers in New York City and educates consumers on the importance of fair trade.   It partners with ethically-aligned businesses, retailers, NGOs, and citizens in New York City to host events and engage the public in dialogue. It offers its members advertising support through its social media channels, coordinates sales events, and fosters networking among ethical and fair trade businesses.   Become a member here!
Visited 23 times, 1 Visit today