Event Description
Learn the basics of screen printing and print your own designs on a small tote bag or your own fabric!
*This event is open to NYU Students, Staff, and Faculty only.
Interested in learning how to utilize your creativity to add colorful designs to fabric? Join GA Kathy and TA Tom at our in-person screen printing workshop! From transferring designs on the screen to heat setting the fabric ink, all things screen printed will be covered. Participants will choose a design and transfer it to their material using fabric screens and custom-made vinyl stickers to enhance their materials.
*This workshop is open to all current NYU student, staff, and faculty and will take place in-person at the NYU MakerSpace located in the Tandon School of Engineering on the downtown Brooklyn campus.*
Organizers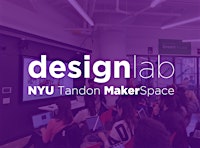 Design Lab @ NYU MakerSpace
About the Organizers
The NYU MakerSpace is a cutting edge lab aiming to foster projects at the intersection of technology, creativity and innovation. It features rapid prototyping and PCB production equipment, as well as advanced machining and testing capabilities. The MakerSpace hosts the Design Lab which provides NYU students with opportunities to ideate, experiment, prototype, and build their ideas.
Visited 37 times, 1 Visit today