Event Description
Our Investor Matching Program is uniquely designed to prepare you and give you access to investors already interested in your startup.
Are you tired of typical investor networking events and pitch competitions when you simply never know what you are going to get? Investors don't know enough about the startup founders, startup founders have no idea whom they are pitching to.
You also rarely get the necessary support, especially from the financial point of view, to be fully prepared for investors Q&A. As a result, most events are used to practice pitches rather than to make valuable connections and close deals.
Our Investor Matching Program is uniquely designed to give you access to the investors who already expressed interest in your startup. Further, to be in the best position to present and close the deal, you go through a custom preparatory program before investor meetings.
The program is created by The Startup Station, an education and consulting company specializing in modeling and valuing early-stage ventures, and Astra Global, a global business development company specializing in startup funding connecting high potential startups of different stages with global leading VCs.
To date, our startups have raised in excess of $50M in capital. We have access to 5000+ investors (20% angels/ HNW and 80% VCs, including early-stage). Check out our past events and investors who participated!
Not ready to join yet? Sign up to our mailing list and we will inform you about future events.
BENEFITS FOR YOU
1. Power round with 200 investors: Assess if your startup is marketable by having your pitch sent out to 200 investors specializing in your sector and stage. See submission instructions here.
2. Get warm intros to any investor who expressed interest in your startup.
3. Get investor-ready through three custom-designed one-hour reviews focused on growth strategy as well as validating your assumptions, business logic, key metrics and how well your financial model represents your business plan.
4. If you receive sufficient investor interest, meet with investors during our Investor Matching Event, and continue the relationship afterwards.
HOW IT WORKS
Eligibility for this round: any tech startup raising Seed, Series A, or Series B round.
You can only participate in the Power Round, if you agree to the entire cost of the program.
Phase I "Power round with 200 Investors": Jan 3rd – Jan 29th
The fee is non-refundable. Applications due by Jan 3d.
Step 1: Apply. You submit a 2-min video pitch by January 3rd following these instructions. We give you feedback and you have one chance to re-submit at no additional payment by January 8th. Every additional resubmission, or resubmission due to failure to follow the instructions, is $25.
If you follow our submission instructions and include all the required info in your pitch, you are accepted to The Power Round. We announce if you are accepted for the Power Round on January 11th.
Step 2: Are you investor-ready? For everyone accepted, a 30-min review of your investors documents to evaluate how investor-ready you are:
Focus on financials for the early-stage track
Focus on strategy and scalability for the growth-stage track
Those who did not get accepted have a chance to reapply at the next round for $25.
Before we send your pitch to 200 investors, you will be required to prepay $655 for Phases II and III by January 15th for an early-stage track and $1200 for a growth-stag track.
Step 3: Power Round. We send your video pitch to 200+ investors investing in your industry and stage and they will vote whether or not they are interested.
Results of the Power Round will be announced on January 29th. ​You will be refunded the program payment if we find less than two investors for you.
Investors continue to vote through February 25th.
Phase II "Preparation": Feb 1st – February 24th: four custom-designed one-hour consulting sessions and a 30-min mentoring session to help you close the deal and perform due diligence for our investors.
Check out testimonials of our past clients, students, and program participants.
Early-stage track ($1200 value without the program)
How to effectively follow up and negotiate with investors, how to reply to investors FAQs, reasons to say "No" to investors [Elena Gusakova]
Answers to FAQ investors may ask you [Elena Gusakova]
Are your financials realistic and credible to investors [Victoria Yampolsky]
How valid your growth assumptions, revenues, costs, and key metrics [Victoria Yampolsky]
How to make your model more attractive for investors [Victoria Yampolsky]
Growth-stage track ($400 off in the program)
How to optimize your sales process and accelerate sales growth? [Francisco Marin]
How ready are you to scale? [Francisco Marin]
What's your growth roadmap for implementing strategic priorities? [Francisco Marin]
Is your new growth plan financially feasible via a strategic financial review ? Are you raising enough capital? [Victoria Yampolsky]
Phase III "Investor Meetings": February 25th, 11 am EST / 5 pm CET
Each session is structured as a thirty-min investors panel followed by targeted investor meetings where each startup team gets its own breakout room and pitches to the investors who already expressed interest in their startup.
We recommend each pitch to be no longer than 7 minutes long. The rest is Q&A.
All teams can stay in their breakout rooms up to one hour and will get warm intros to all investors who attended the session afterwards.
Note: all U.S. securities transactions will be rounded though our broker-dealer Young America Capital.
Read more here!
Organizers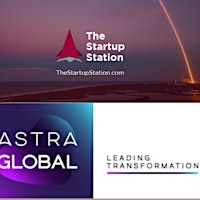 Astra Global/The Startup Station
About the Organizers
Elena Gusakova is the Founder of Astra Global, a global business development company. She has close to ten years of business development experience, helping leading consulting companies and UBS, Zurich to find new clients among investors, business owners and high net worth individuals. Throughout her career, she conducted over 100 top tier client events, focused on increasing business revenues. She initiated a project at UBS aimed at converting events into revenue generating activities, which was approved and implemented by the bank. She regularly advises other companies and her recent consulting client grew their revenues 3x in 4 years. At Astra Global, Elena focuses on facilitating collaboration between startups, investors, and corporations. Elena also advises startups on how to approach investors and make the first contact.Prior to career in business development, Elena spent eight years working as a M&A lawyer at private equity funds, leading cross border deals with the total deal amount exceeding $600M. She has a deep understanding on investment processes, investors main concerns, and is an experienced negotiator. Elena has graduated from Academy of Labour and Social Relations, Law faculty, Moscow, with highest honours, and holds EMBA from Columbia and London Business Schools. Victoria Yampolsky, CFA is the Founder and President of The Startup Station, an educational and consulting company committed to help startups be successful and get funded faster. She focuses on creating detailed strategic roadmaps and converting them into credible financials and valuations. Specifically, she helps entrepreneurs correctly translate their business plan into a financial plan, evaluate the financial feasibility of different initiatives, credibly present their company to investors, and use their financial model to drive the business forward.To-date, she has worked with more than 100 startups one-on-one and more than 1,000 founders have taken The Startup Station's finance courses and learned the basics of accounting, valuation, financial modeling, and startup financing.Previously, Victoria worked for Deutsche Bank and was a technology consultant with CapGemini's Financial Services Division. Victoria holds a Bachelor's Degree, Cum Laude, in Computer Science, with a minor in Mathematics, from Cornell University and an MBA, with honors, from Columbia Business School. Victoria is also on the Advisory Board of the Computing and Information Science (CIS) Department of Cornell University.
Visited 39 times, 1 Visit today