Event Description
A conversation about current FinTech trends and how they will impact the FinTech ecosystem in the future.
A panel discussion comprised of futurists, thought-leaders, and experts to discuss whether current trends are setting the precedent for future ideas or whether they are flashes in the pan. What is the future shaping up to look like and who will lead the way?
Event Takeaways:
Learning about current FinTech trends and how they are shifting the traditional financial industry; what role in these trends does the consumer play?
Identifying key disruptors in FinTech today
Challenges of FinTech in the near and distant future
What is in store for the FinTech industry in a post-COVID world?
FinTech and spending – will current conversations around the dollar bill and "cashless" spending impact FinTech in the longrun?
What are the current FinTech trends and how can they evolve in 2021 and beyond?
This conversation will be moderated by Jacob Bouer, Director of Strategic Partnerships at The Venture Center
Panelists include:
*The link to access the discussion will be sent to you prior to the event and will be accessible on this event page.
Organizers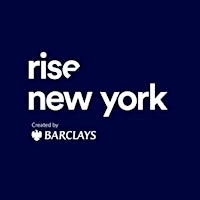 About the Organizers
Rise New York is a global community of startups and corporates creating the future of commerce and fintech by helping startups and entrepreneurs connect, co-create, and scale innovation. Created by Barclays, we listen, nurture and oxygenate through our international network of Rise hubs. Rise New York also houses a world-class event space and is home to the New York cohort of the Barclays Accelerator, powered by Techstars.   Join our community  Have you built or do you work for a FinTech company sure to disrupt the world of financial services? If so, there is not better home for your startup than at the #HomeofFinTech - Rise created by Barclays. To learn more about the benefits of sitting at Rise, email General Manager, Shana Steele at shana@thinkrise.com or set up a tour here: https://calendly.com/risenyc/rise-site-tour.    Subscribe to the Rise New York newsletter here:  https://thinkrise.us10.list-manage.com/subscribe?u=d7e98de7728cba4c3bdf1bb07&id=bc974b02b7  
Visited 63 times, 1 Visit today