Event Description
Join us for our flagship event series Rise Presents: A look back at FinTech Trends in 2020 and forward to 2021.
This year has certainly been a turbulent one. But, FinTechs have stepped up to the mark, driving the delivery of special initiatives for consumers, communities, SMEs, charities, the self-employed and the underserved.
We saw partnerships between FinTechs and government organizations to assist with distribution of pandemic relief funds, a digital transformation of large financial institutions and FinTechs alike, and diversity and inclusion take center stage.
The experts will share their thoughts on 2020, FinTech successes, the state of the investment landscape and, most importantly, their predictions for 2021.
A 45 minute discussion on the subject, including benefits, challenges and where the US stands in comparison to other nations.
We will also delve into what the future holds and take questions from the audience.
This conversation will be moderated by Alexandra Gheorghe, FinTech Platform Manager at Barclays. Panelists include:
Submit a question for our speakers at slido.com (event code #Trends).
Stay up to speed with all things Rise: sign up to the Rise Newsletter for a curated list of news, highlights and upcoming events.
Organizers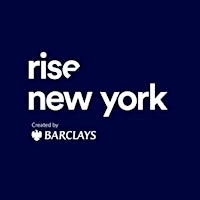 About the Organizers
Rise New York is a global community of startups and corporates creating the future of commerce and fintech by helping startups and entrepreneurs connect, co-create, and scale innovation. Created by Barclays, we listen, nurture and oxygenate through our international network of Rise hubs. Rise New York also houses a world-class event space and is home to the New York cohort of the Barclays Accelerator, powered by Techstars.   Join our community  Have you built or do you work for a FinTech company sure to disrupt the world of financial services? If so, there is not better home for your startup than at the #HomeofFinTech - Rise created by Barclays. To learn more about the benefits of sitting at Rise, email General Manager, Shana Steele at shana@thinkrise.com or set up a tour here: https://calendly.com/risenyc/rise-site-tour.    Subscribe to the Rise New York newsletter here:  https://thinkrise.us10.list-manage.com/subscribe?u=d7e98de7728cba4c3bdf1bb07&id=bc974b02b7  
Visited 63 times, 2 Visits today