Event Description
** ONLINE EVENT **
Join ATHENA Akron virtually via Zoom as we welcome Pamela Hickson-Stevenson, Executive Director, Akron-Summit County Public Library. Pam will tell us her story and answer questions from our moderator, Lisa King, Executive Director, Summit Metro Parks. We will then open a chat for questions from our attendees.
Cost: There is no charge for this program; however, donations are welcome. Fifty percent of your donation goes to a non-profit that serves women during this difficult time.
An email containing a private Zoom link and a PDF copy of Pam's full bio will be sent to all registrants on Tuesday, January 12th.

Pamela Hickson-Stevenson
Pam has served as the Executive Director of the Akron-Summit County Public Library since April 2018. Previously, she was the Deputy Director of the Akron system for twelve years. Additionally, she was the Director of the public libraries in Wadsworth, Wayne County, and Portage County. She also served as an adjunct member of the Kent State University iSchool faculty from 2000 to 2015. She received her B.A. in English from Mount Union College (now University of Mount Union) and her M.S.L.S from Case Western Reserve University.
Pam is a past president of the Ohio Library Council and also has served as the Ohio Chapter Councilor to the American Library Association, representing Ohio on the governing council. She is a board member of Child Guidance & Family Solutions, Downtown Akron Partnership, and a past president of the board at the International Institute of Akron. She is a graduate of Leadership Akron, Class 25, and of three other community leadership programs and one library leadership program.
Organizers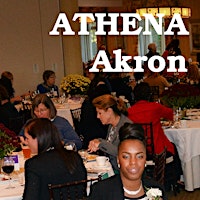 About the Organizers
ATHENA Akron, Inc. is a nonprofit organization with the mission to provide leadership support, development and education for women in the Akron area. ATHENA Akron was founded in January 2015 as an independent 501(c)(3) and is an affiliate of ATHENA International.
Visited 16 times, 1 Visit today