Event Description
"When You Win, I Win, Sis!"
{OPEN ONLINE SESSION}
Dial-In Instructions Provided in Confirmation Email Upon Registration
Create Your Own Business Stimulus Package!
VIRTUAL MONTHLY CHAPTER MEETING!! BY REGISTRATION ONLY!
Limited to 25 Fiscally Fabulous Women Entrepreneurs
Level Up Your Business in 2021 with Promote-Her National Network.
Claim your category exclusive space within our Midtown Chapter. Choose from up to 160 categories (Caterers, Copywriters, DJs, Event Planners, Event Vendors, Graphic Designers, Photographers, Videographers, PR / Publicists, Web Designers, Audio-Visual Media, Business Banker, Bookkeeper, Massage Therapist & More, we're talking to you!)
Your annual membership fee secures your space for 12 months! Attend your 1st meeting for FREE and yes invite another Sister in business to join you.
*Business Coach, Business Consultant, Travel Industry and Real Estate Investor Categories are Claimed for the Midtown Chapter*
IMPORTANT:
Only one person from each profession or classification is allowed to join a Chapter of Promote-HER.  
A Network of Support!
PROMOTE HER is a National Network for Women Who Lead in the areas of business, community and religious organizations. We have chapters being established in every major city in America. Promote Her is a subsidiary of Brooks Media Group / The DIVA Zone Enterprises LLC
What is a Promote-Her?
A PROMOTE-HER is a WOMAN with VISION who is confident, loving, supportive and secure enough to CELEBRATE, UPLIFT and AID in the ELEVATION of other WOMEN!
We do this in a myriad of ways: Networking events, Group Promotions, Dialog, Virtual Marketing Education, Annual Events, Cross Promotions, Group Advertising Opportunities, Mastermind Sessions and Actually BUYING and SUPPORTING from within the network while sharing OUTSIDE of the network!
It is our motto that, "When You Win, I Win, Sis!" We believe that there is more than enough room for us all TO WIN, SHINE and BE CELEBRATED! 
Any questions feel free to email me: tmartin@enjoyyourlegacy.com or call 646-437-6003.
Your first meeting is free. Registration is required.
And yes, invite another Queen to register and attend, as your guest.
Come join the Midtown Manhattan Chapter in carrying out this mission! Uplevel Your Business in 2021 with Promote-Her National Network
Claim your category exclusive space within a local chapter of your choice.
Choose from up to 160 categories in any one chapter. Your annual membership fee secures your space for 12 months! Visit: www.promote-her.com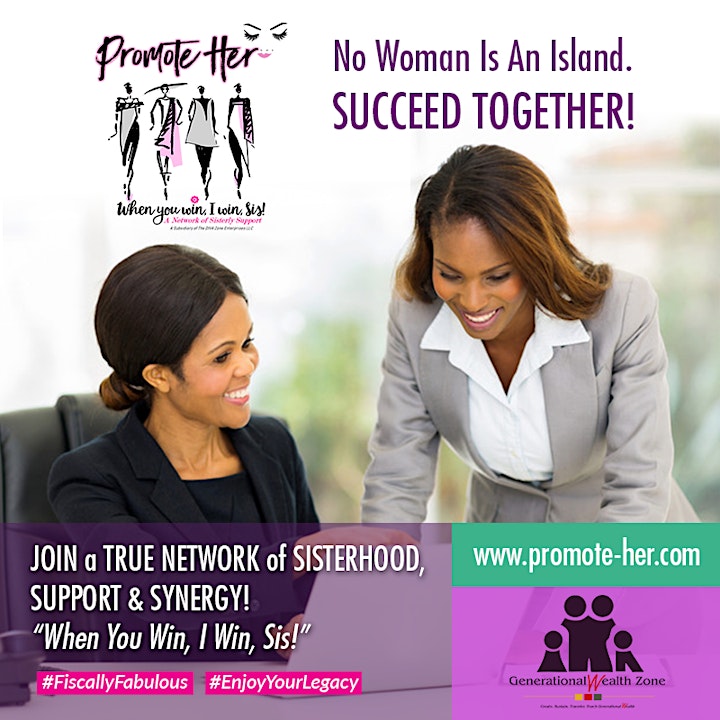 Organizers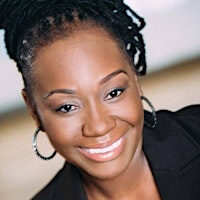 About the Organizers
THE BRAND Dr. Teresa R. Martin, Esq. is the Founder & CEO of Generational Wealth Zone LLC, a premier full-service coaching and consulting company which helps frustrated and confused business owners and real estate entrepreneurs generate more leads and attract new clients by implementing a simple and quick 5 step profit formula that helps them to immediately double their profits while simultaneously building their business to a million dollars or more in total revenue.   BEHIND THE BRAND Teresa is a Business Breakthrough Specialist serving clients in the New York city area, throughout the USA, and abroad. She is an entrepreneur, attorney, and real estate investor, and believes the world needs more entrepreneurs who will start thriving businesses that create new jobs. Most of all, Teresa is a passionate advocate for business education and wealth through real estate investing. Her mission is to educate women about entrepreneurship and investing and support them in getting their first (or next) deal. She's not afraid to buck trends and go against conventional wisdom. Her straight-talking, irreverent style hints at the intensity with which she drives entrepreneurs to success.   Teresa walks her talk. She is the Powerhouse Producer of Fiscally Fabulous™ and her unique Fiscally Fabulous Profit Process™ puts you on a clear path to success and profitability. Teresa will deliver a blueprint for breaking through your limitations and outline the smart way to build a profitable real estate empire with very little money or experience. ENJOY YOUR LEGACY. MORE BUSINESS. MORE MONEY. MORE LIFE
Visited 30 times, 1 Visit today