Event Description
Learn how to create a compelling ask for capital by learning how to pitch your business to various audiences using a variety of methods.
Who's this for?
DC-based business owner or DC Residents exploring entrepreneurship. Information provided will NOT be applicable to non-profit organizations.
About this Series and 9/20 Session
This is the 1st of a multi-part series of webinars designed to help DC businesses and DC resident entrepreneurs explore how to create a successful pitch to receive business funding via various sales, grants, crowdfunding and loans.
The 9/20 session will provide attendees an overview:
Types of Pitches
Parts of a Pitch
Various Audiences from which you may solicit funds to support your DC business.
Future session topics
Part 1 – Funding Pitch Overview for DC Businesses -9/20 @ 3pm
Get an overview pitch types, pitch parts and various audiences from which you may solicit funds to support your DC business.
Part 2 – Your Why and Story
Part 3 – Image and Video
Part 4 – The A$k
Part 5 – Formats (in person, written, video/social)
Part 6 – Building Community & Follow-up
About District Capitalized and Money Mondays
DSLBD's District Capitalized is a coordinating program that supports financing the creation, operation and growth of District businesses, DC resident entrepreneurs, and the partners who help them through products and guidance like its weekly Money Mondays business financing and financial management series
Subscribe for updates about future workshops, loans, grants and other financing resources to help DC businesses at https://bit.ly/DistrictCapitalizedAlerts .
Need Translation?
Department of Small and Local Business Development (DSLBD) can help you start, operate and grow your business in the District of Columbia. Free language interpretation is available. (202) 727-3900
 El Departamento de Desarrollo de Negocios Pequeños y Locales puede ayudarle a establecer, operar y hacer crecer su negoio en el Distrito de Columbia. La interpretación gratuita a otros idiomas está disponible. (202) 727-3900
 የዲስትሪክት ኦፍ ኮሎምቢያ አነስተኛና አካባቢያዊ የንግድ ሥራ ትብብር ስራዎን እንዲጀምሩ, እንዲፈጽሙ እና እንዲያሻሽሉ ይረዱዎታል. ነጻ ነጻ ትርጉም ይገኛል. (202) 727-3900
 地方小企业发展部可以帮助您在华盛顿特区 建立,运营和发展您的企业。我们提供免费的翻译服务。(202)727-3900
 Le département du développement des petites entreprises locales peut vous aider à démarrer, opérer et développer votre entreprise dans le District de Columbia. Une interprétation linguistique gratuite est disponible. (202) 727-3900
 إدارة تطوير الأعمال الصغرى و المحلية بإمكانها مساعدتكم على إنشاء و إدارة و تنمية مشروعكم التجاري في قطاع كولومبيا. لترجمة اللغوية متوفرة مجانا. (202) 727-3900
 Idara ya Ukuzaji Biashara Ndogo na za Ndani inaweza kukusaidia kuanza, kuendesha na kukuza biashara yako katika DC. Ukalimani wa lugha bila malipo unapatikana. (202) 727-3900
 지역중소기업개발부서(DSLBD)는 여러분이 컬럼비아 특별구에서 사업을 시작 및 운영하고, 성장시킬 수 있도록 도와드립니다. 무료통역 서비스를 제공합니다. (202) 727-3900
Sở Phát triển Doanh nghiệp Nhỏ Địa phương có thể giúp quý vị khởi nghiệp, điều hành và phát triển công việc kinh doanh của quý vị tại DC. Có thông dịch miễn phí. (202) 727-3900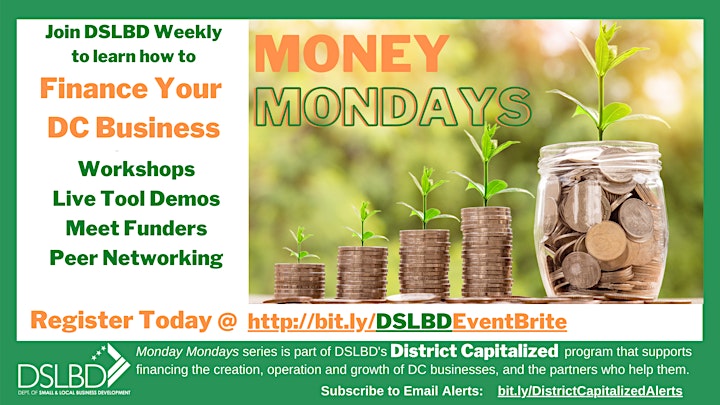 Organizers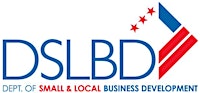 Department of Small & Local Business Development
About the Organizers
The DC Department of Small & Local Business Development is a DC government agency that provides support, training, and technical assistance to all small and local businesses and aspiring entrepreneurs in the District.  
Visited 27 times, 1 Visit today