Event Description
Discover that learning to code will open the doors to the opportunities you are seeking
Considering switching to tech? This is your chance to dip your toes and see what you could learn if you become part of the 4Geeks family.
Our students from our Full-Stack Software Development Program will be presenting their final projects and showing off what they have built while becoming Full-Stack Developers. They will show real-life projects, created using the skills that companies are looking for.
This is the perfect opportunity for our students to show the fruits of their labor. Whereas for you, it might be the chance to acknowledge how to boost your professional career.
We will also be hosting an online Q&A panel featuring guest speakers who will be answering questions about their career paths, as well as some insights into the tech industry.
Meeting URL
https://bluejeans.com/112552906/6458?src=join_info
Meeting ID
112 552 906
Participant Passcode
6458
Want to dial in from a phone?
Dial one of the following numbers:
+1.408.419.1715 (United States (San Jose))
+1.408.915.6290 (United States (San Jose))
(see all numbers – https://www.bluejeans.com/numbers)
Enter the meeting ID and passcode followed by #
Organizers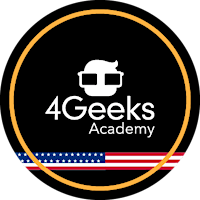 About the Organizers
Click here to subscribe to our text messages. Award-winning coding school specialized in part-time and full-time accelerated coding programs with the purpose of teaching you the skills to change and upgrade your career in just a few weeks. Thanks to our specialized teaching methods, hundreds of hours of excellent content and a solid network of companies willing to offer job positions to graduates, 4Geeks Academy was named one of the top coding schools in the US by Newsweek in 2017. 
Visited 39 times, 1 Visit today