Event Description
***NYC's Largest Tech And Entrepreneur Holiday Networking Party***
***LIMITED OPEN BAR-4 Drinks Included-(Beer,Wine,Well Drinks)***
***UNLIMITED Appetizers***
***Mega Raffle Prize-SMART TV***
***Multiple Raffle Prizes-Tablets & Much More***
Are you part of New York Metropolitan Area's bustling Entrepreneurial Technology world?  
Are you looking for a fun way to start networking with fellow Professionals?
You +  Your Entrepreneurial Aspiration +  Win Smart TV & Tablets
= 
NYC'S Largest Tech Entrepreneurial Networking Holiday Party
***LIMITED OPEN BAR-4 Drinks Included-(Beer,Wine,Well Drinks)***
***UNLIMITED Appetizers***
***Mega Raffle Prize-SMART TV***
***Multiple Raffle Prizes-Tablets & Much More***
Let the warmth of friendship  take the chill from the air, and the spirit of the season make winter easier to bear.  
Join in for NYC'S Largest Tech Entrepreneurial -Networking Holiday Party 
And be a part of NYC's Largest Tech Entrepreneur Holiday party that will bring entrepreneurs and business owners a host of new opportunities to network and build relationships. 
THE BEST THING ABOUT THIS EVENT IS THAT YOU DON'T HAVE TO BE A BUSINESS OWNER TO COME OUT AND NETWORK!
Bring your business aspirations, startup information, and entrepreneurial spirit.
There will be a Multiple Raffle Prizes, the winners get  BRAND NEW SMART TV & TABLETS to take his/her business and tech aspirations to the next level!!
The purpose of this event is for YOU to get out and spread that holiday networking cheers!  
Plan For The Evening
1) Networking & Sharing Greetings with Best & Brightest In NY tech and startup scene
2) Meet professionals and business owners and built networks for business and leads for 2019
3) Party props for all
4) Multiple Raffle prizes
5) Full Open Bar (3 drinks Included)
6) Appetizers Will Be Served.
Hosted By – New York Entrepreneurs, Startup & Business Coalition
WWW.NYPROFESSIONALNETWORK.COM
Hosted By – New York Entrepreneurs, Startup & Business Coalition.
Facebook Page –NYCESN
Facebook Group- NYCESN
Meetup Group – MEETUP
FUTURE EVENTS, FREE TO ATTEND BUT RSVP
For Business Queries Only
moveyourcareer@gmail.com
www.nyprofessionalnetwork.com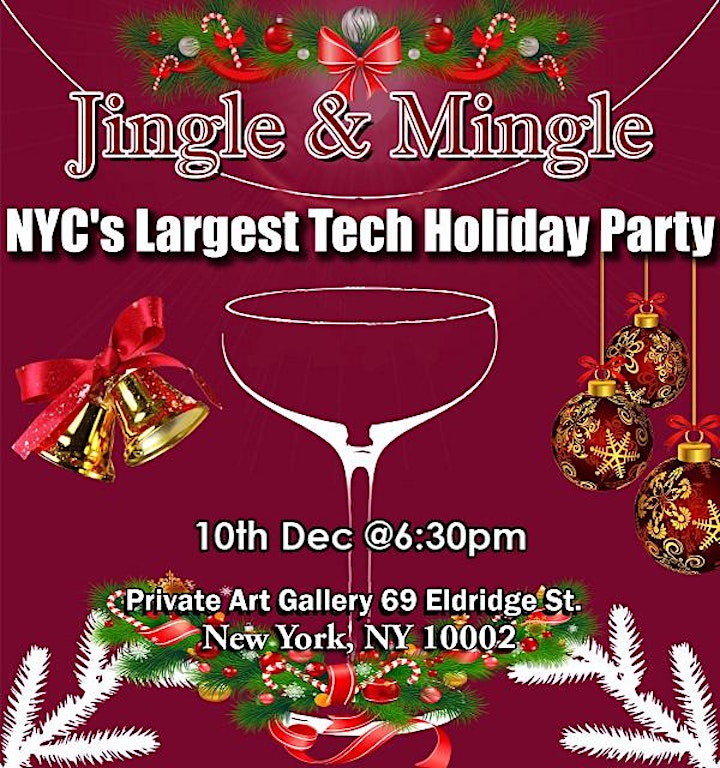 Organizers

New York Entrepreneurs, Startup & Business Coalition
About the Organizers
Welcome to New York Entrepreneurs,Startup & Business Network. Whether you are just starting out in the world of business or are working on business number one-hundred, New York Entrepreneurs,Startup & Business Network's goal is to help you get potential p
Visited 15 times, 1 Visit today