Event Description
Conference by and for student-scientists, bringing undergraduate science journals and student-scientists together to learn from each other
Interested in publishing scientific research as an undergraduate? Curious about the spread of scientific information? CUSJ is hosting the National Undergraduate Conference on Scientific Journalism on Saturday, November 21. The conference, which is the first of its kind, will bring together hundreds of student-scientists and multiple undergraduate research journals from across the nation to discuss research ethics and practice, the publication process, the role of student journals, and more. The event will be held over Zoom.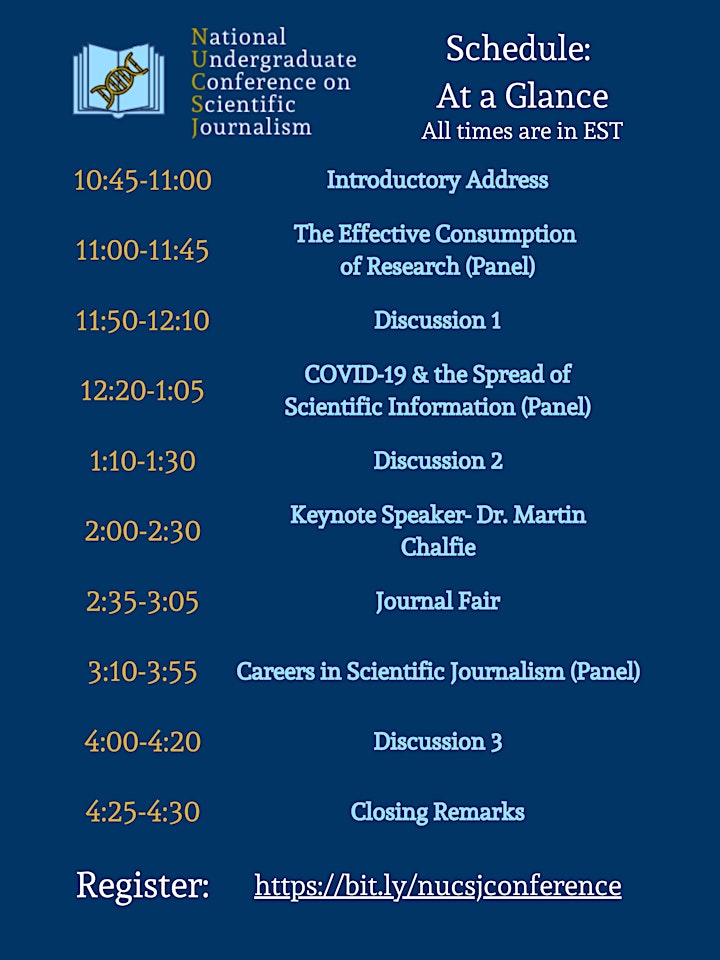 The conference consists of virtual events throughout the day. Each panel is followed by a discussion among undergraduates. All times below are EST. Zoom links will be emailed to those who register prior to the conference.
Schedule:
10:45 – 11:00: Introductory address
11:00 – 11:45: The Effective Consumption of Research (Panel)
How is scientific literature absorbed and disseminated? This panel will evaluate the use of scientific literature in scientific practice and journalism. In addition, we will discuss how undergraduates can make informed conclusions about scientific literature in both their own research and the publication process for undergraduate journals.
11:50 – 12:10: Discussion 1
12:20 – 1:05: COVID-19 and the Spread of Scientific Information (Panel)
One of the biggest problems facing the world today is scientific misinformation. This panel will examine the spread of research related to COVID-19 and the generalizations commonly made about COVID-19. In addition, we will discuss the prevention of scientific misinformation.
1:10 – 1:30: Discussion 2
1:30 – 2:00: Break
2:00 – 2:30: "Writing: an essential component of research"- Keynote Speech by 2008 Nobel Laureate Dr. Martin Chalfie
Researchers, especially beginning researchers, view writing their results as a distracting but necessary culmination of a research project. Dr. Chalfie argues, however, that writing is a critical and integral part of any research project and often marks an early stage and not the end of a project. He will give some examples from his own work on how summarizing his results changed the direction of the research. He will also speak about the problems he has encountered in publishing his work and the importance of preprint archives as a way to present research results to the world and to build a better scientific community.
2:35 – 3:05: Virtual Journal Fair
3:10 – 3:55 Careers in Scientific Journalism (Panel)
Scientific communication is of great importance for all scientists, regardless of specific profession. This panel will discuss the role of scientific journalism and communication in future career paths for undergraduate scientists.
4:00 – 4:20: Discussion 3
4:25 – 4:30: Closing remarks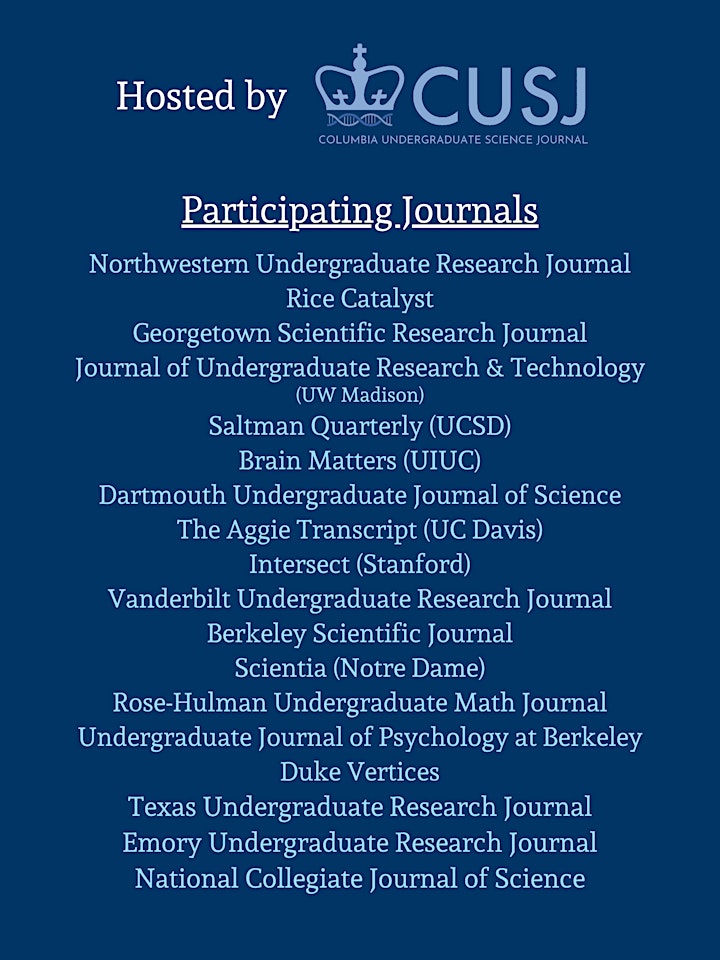 Disclaimer: By registering for NUCSJ, you consent to the recording and sharing of conference proceedings on social media and video platforms
Organizers
Columbia Undergraduate Science Journal
About the Organizers
The Department of Music at Columbia is one of the oldest and most distinguished at any American university, supporting scholarly and scientific inquiry into music at the highest levels of rigor and innovation.
Visited 29 times, 2 Visits today