Event Description
Learn the essentials of the Cricut machine to cut vinyl and create custom projects including multi-colored decals, t-shirts, and more!
*This event is open to current NYU students, staff, or faculty only. *
In this in-person workshop, students will join TAs Masuma and Allie to learn the basic features of the Cricut Design Space software including linetype, adding text, and incorporating images and shapes to create your own design. Participants will get an introduction to the software as well as a tutorial on how to set up the Cricut Maker Machine. By the end of the workshop, you will also learn advanced techniques such as layering vinyl to create multi-colored decals and using a heat press and iron-on vinyl to create a custom t-shirt.
Participants will have the option to incorporate what they have learned in a hands-on project by creating their own layered decal and/or t-shirt. All materials will be provided.
If you would like to follow along, please download the Cricut Design Software and create a free account here: https://design.cricut.com/
*This workshop is open to all current NYU student, staff, and faculty and will take place in-person at the NYU MakerSpace located in the Tandon School of Engineering on the downtown Brooklyn campus.*
Organizers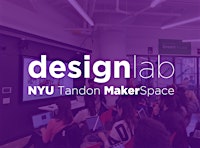 Design Lab @ NYU MakerSpace
About the Organizers
The NYU MakerSpace is a cutting edge lab aiming to foster projects at the intersection of technology, creativity and innovation. It features rapid prototyping and PCB production equipment, as well as advanced machining and testing capabilities. The MakerSpace hosts the Design Lab which provides NYU students with opportunities to ideate, experiment, prototype, and build their ideas.
Visited 30 times, 1 Visit today