Event Description
iCubed (Institute, Industry, Innovation) seminars invite DSI Industry Affiliates to give technical talks on work going on in their domain.
Join DSI's iCubed Seminar Series to learn about real-world uses of data science and opportunities with DSI Industry Affiliates.
Guest Speakers from KPMG
Todd Ellis, Principal, Advisory C&O Health & Government
Vonetta Daniels, Director, Advisory C&O Health & Government
Sreedhar Sasikumar, Director, D&A Modeler LH, Advisory Data Organization
Location: Columbia School of Social Work, Concourse Level (Room C03). Address: 1255 Amsterdam Ave, New York, NY 10027
Moderated by: Jessica Rodriguez, Industry Engagement and Outreach Officer, Data Science Institute
Data for DE&I – Improving Health Equity with Data
KPMG has worked with Morehouse School of Medicine over the course of several years, bringing them to the KPMG Atlanta Ignition Center to discuss innovation and some of the ongoing work in digital health, telemedicine, data and analytics, and patient access. When COVID-19 hit, there was an opportunity for MSM to pursue a grant from the U.S. Department of Health and Human Services Office of Minority Health. Despite being given less than a week to complete the grant application—and facing stiff competition from across the nation—MSM won the award, with KPMG positioned to lead, building and managing the technology infrastructure to support the work.
The platform, enabled by Salesforce, encompasses a thorough communication strategy developed by leading health disparities researchers and marketing organizations aimed at disproportionally impacted communities across the nation. The data includes attributes from the KPMG Signals Repository, which is an active listening platform that continuously harvests a variety of data from public and private sources. Structured and unstructured data is transformed into complex expressions, creating tens of thousands of signals when used by machine learning and other artificial intelligence (AI) systems and is helping the National COVID-19 Resiliency Network (NCRN) significantly improve its accuracy in predictions.
This event will include speakers from KPMG sharing insights and a live demonstration about this project. Learn more here.
Organizers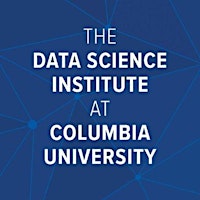 Data Science Institute, Columbia University
datascience@columbia.edu
About the Organizers
Contact DSI: datascience@columbia.edu
Visited 6 times, 1 Visit today