Event Description
This conference will convene scholars and thinkers from around the world to share new insights around marketing and blockchain technologies.
The International Conference on Crypto-Marketing, to be held on December 5 and 6 at Columbia Business School in New York City, will bring together academic researchers, executives, and thinkers to discuss the benefits and pitfalls of crypto-marketing. The conference will examine, how NFTs, crypto, and distributed ledger technology, will play a key role in physical and digital marketplaces, as well as how the brands built on these technologies work to scale them into the mainstream.
One of the goals of the conference is to provide feedback to researchers on their current efforts, including work in progress, as this is an emerging area. Papers presented at the conference will be eligible for submission to a forthcoming Special Issue on the topic in the International Journal of Research in Marketing (IJRM). The editors of the journal, professors Renana Peres, David Schweidel, and Martin Schreier, along with select associate editors and writers — professors John Zhang, Anatoli Colicev, Ken Wilbur, Lan Luo, and Katherine Tucker — will present at the conference regarding the goals of the special issue.
To find more about the conference, including the agenda (soon to be posted) and information on the IJRM's related special issue, please visit the conference website.
Organizers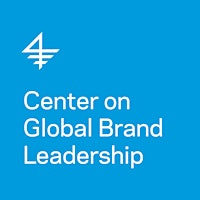 Columbia's Center on Global Brand Leadership
About the Organizers
The Center on Global Brand Leadership at Columbia Business School creates, gathers, and shares insights on how to build and manage strong brands. Combining the research and intellectual capital of both academic and executive thinkers on brand reaserch and real world business cases, we show how all elements of an organization – from marketing and communications to supply chain and operations – can affect brands and their relationships with stakeholders. Visit our websites www.gsb.columbia.edu/globalbrands and www.briteconference.com .
Visited 43 times, 1 Visit today