Event Description
The IISE Student Chapter at New York University is pleased to announce the IISE Northeast
Regional Conference 2023.
The IISE Student Chapter at New York University is pleased to announce the IISE Northeast Regional Conference 2023. The conference aims to provide a platform for the presentation of student papers reflecting research and industry-based projects along with creative thinking through team competitions. There will be a networking session to enable the development of networking skills and contacts for students to assist them in their future career endeavors. The goal of the conference is to foster an environment to address career issues and encourage team spirit and networking.
Please complete all questions when registering. Non-NYU Students will need to get approved to be on campus so please make sure all the information you provide is correct as it can prevent your access to campus.
The registration fee is $71.21 ($65 registration fee plus Eventbrite fee)
The conference is organized with several elements including:
 1) Student Networking Sessions
2) Student Technical Paper Competition
3) Guest Speaker Sessions
4) Award ceremony
Following are the details for the event:
Keynote Speakers: 
Rami Goldratt, CEO Goldratt Group
Rami Goldratt currently serves as CEO of Goldratt Consulting. Over the years, Rami has been
involved in consulting engagements with retail, automotive, textile, chemical, and service
industries all around the world. Rami is considered one of the most influential leaders of the
Theory of Constraints (TOC) body of knowledge, specifically in Sales and Marketing, where his
work has become standard practice. Rami is also among the pioneers in developing and
implementing TOC applications for the education system – guiding teachers around the world
in applying the TOC thinking Processes for children's education.
Mel Horwitch is a visiting Scholar at the MIT Sloan School of Management, former Chair of
the Department of Technology Management at NYU.
Professor Horwitch is an acknowledged expert on entrepreneurship and innovation
management. He has written extensively on technology strategy, particularly with reference to
knowledge-intensive sectors, global innovation, and the role of networks and cross-boundary
and multi-sector endeavors in developing technology. Most recently, Professor Horwitch has
focused his research on clean tech and sustainability management, global innovation
(especially with regard to emerging economies), global entrepreneurship in both stand-alone
and corporate venues and the future configuration of modern innovation.
Conference Theme:
Industrial and Systems Engineering for the Future
Mr. Rami Goldratt will be discussing the Theory of Constraints and how it can be applied to
solve complex industrial problems.
Professor Mel Horwitch will be discussing the challenges of building innovative agile systems
while at the same time streamlining and improving them.
Breakout Session Speakers and Topics: 
1. Prof. Jun Zhuang – University at Buffalo
Application of Operations Research to real world problems: Dr. Zhuang's
research integrates operations research, big data analytics, game theory, and
decision analysis to improve mitigation, preparedness, response, and recovery for
natural and man-made disasters. Other areas of interest include applications to
health care, sports, transportation, supply chain management, sustainability, and
architecture.
2. Prof. David Soukup – NYU Tandon School of Engineering
Licensing and Certification: A session on how to become licensed and to earn
certifications will be offered so you can learn why licensed professional engineers
and six sigma black belts earn on average more than $500,000 during the course of
their careers than those who are not licensed or certified.
3. Prof. Maurizio Porfiri – NYU Tandon School of Engineering
Prof. Porfiri is a widely accomplished professor with a multidisciplinary background.
He is a Fellow of the American Society of Mechanical Engineers (ASME) and the
Institute of Electrical and Electronic Engineers (IEEE). He is the author of
approximately 400 journal publications and was included in the "Brilliant 10" list of
Popular Science in 2010. His research has been featured in major media outlets,
such as CNN, NPR, Scientific American, and Discovery Channel. He will talk about
Industrial Engineering and its applications across multiple sectors.
4. Prof. Joe Wilck – Bucknell University
ChatGPT: ChatGPT is a Large Language Model (LLM) application that has captured
the attention of practitioners and scholars from across many domains. This talk will
showcase examples of its use for better or for worse, its strengths and weaknesses,
and explore principles for its effective use within the industrial and systems
engineering domain.
5. Prof. Jeff Smith – Auburn University
Demonstration of Simio Simulation Software: Simio is a simulation software
platform used for modeling, simulating, and analyzing complex systems and
processes. It helps businesses make data-driven decisions by providing a visual
environment to build simulation models. Prof. Smith's research interests are
simulation modeling analysis, logistics, and warehousing and distribution. He will talk
about the use of simulation software in businesses and in developing models to
provide insights.
6. David Moss – Chief Technology Officer and Co-Founder at Blue Prism
Blue Prism: David's areas of expertise are in Robotic Automation, Operational
Agility Software, and Business Process Automation, The talk will focus on the
challenges and opportunities in Robotic Process Automation and how Blue Prism
automates business processes using software robots. These robots can interact with
other applications and systems to complete tasks, improving efficiency and
productivity. During the conference, there will also be a simulation of Blue Prism's
capabilities, which will demonstrate how it can be used to automate tasks and
streamline business processes.
7. Elizmar Engel – Director of Supply Chain Analytics at BARK
Digital Supply Chain: Elizmar Engel has 8+ years' experience working in
operations, demand planning, and analytics in the supply chain industry. Her talk will
revolve around supply chain challenges at BARK and design and implementation of
new processes for operational improvement at FreshDirect. Her passion is around
operational transformation and capacity management.
8. Esra Abir – Sr. Manager, Sales & Ops at Alphapointe
Career Trajectory for Landing your Dream Job in the US: Follow Esra Abir as
she navigated her life in NYU as an international student pursuing a master's degree
in Industrial Engineering. With 10 years of experience in project management and
business development, Esra has also been granted 4 US Patents. She will also talk
about the utilization of industrial engineering skills in the development and
management of products. Through real-time business case discussions, the
challenges experienced in project delivery will be discussed.
9. Supply Chain Management Panel Discussion
Dr. Ajai Kapoor – Partner at Goldratt Consulting
Dr. Kapoor has been working closely with Dr. Goldratt to develop the TOC
application for multi project environments, and applying the method with multiple
companies across industries, and has since become known as one of the world's
leaders in this field. He is the winner of the prestigious Fulkerson Prize awarded by
the Mathematical Programming Society and the American Mathematical Society. His
talk will focus on approaches and techniques that improve speed and efficiency of
complex highly variable operations.
Dr. Benjamin Melamed – Distinguished Professor at Rutgers University
Dr. Melamed is a Distinguished Professor and a former Senior Associate Dean for
Strategic Planning and Implementation—New Brunswick. His research interests
include supply chain management, supply chain financial management, and service
chain management Dr. Melamed has authored or co-authored over 100 papers and
co-authored two books and has published in a broad range of scientific journals,
including Operations Research, Mathematics of Operations Research, Management
Science.
Dr. Alok Baveja – Professor of Supply Chain Management at the Rutgers Business
School
Dr. Baveja's expertise is in the use of innovative modeling and technologies for
managing operations in the public and private sectors. Dr. Baveja's research has
appeared in journals such as Mathematics of Operations Research, IEEE
Transactions on SMC. Notable citations of his work include those by the National
Aeronautics and Space Administration, The Supreme Court of the United States, The
Wharton Leadership Forum. is research has been funded by grants from the National
Science Foundation, the National Institute of Justice, U.S. Department of Transportation,
The British Council.
There will be a facilitated panel discussion in Supply Chain Management by these experts and
leaders in their fields. The theme for this discussion would revolve around practical case studies
for leveraging data for innovation in Industrial Engineering. With the industry looking for
problem solvers and theory of constraints being a problem-solving technique; this panel
discussion will present implementations and solutions for applying it to supply chain.
10. Perrin Quarshie – Founder and CEO of RealBlocks
RealBlocks is an online platform that provides access and liquidity for alternative
investments. The talk will focus on Quarshie's career transition from a civil engineer
at NAC international, where he focused on real estate development and finance of
energy infrastructure projects, to founding RealBlocks where they work with venture
funds, private equity funds, private credit funds to provide full front, middle, and back-
office functionality to alternative investment managers.
11. Dr. John Heitner, MD – Cardiology Specialist in Brooklyn, NY
Dr. Heitner is affiliated with medical facilities NYU Langone Health Tisch Hospital
and NYU Langone Hospital – Brooklyn. His talk will focus on his work, in partnership
with NYU's Industrial Engineering program on applying Theory of Constraints to
improve healthcare practices.
Additional speakers and topics will be announced soon.
Hotel Accommodations:
The following are some hotel options within walking distance of NYU Tandon Campus:
EVEN Hotel Brooklyn, an IHG Hotel
Sheraton Brooklyn New York Hotel
New York Marriott at the Brooklyn Bridge
Holiday Inn Brooklyn Downtown, an IHG Hotel
Undergraduate Student Paper Competition
All the papers presented by the students and the elements of the conference will be reflected in
the conference theme, "Industrial and Systems Engineering for the Future." The
general guidelines for the undergraduate student technical paper competition are at 
https://www.iise.org/Details.aspx?id=863
Interested students can submit their conference papers at the below-mentioned address:
Contact Person: Professor David Soukup
Email Address: ds2852@nyu.edu
Note: Please include the following subject line in your emails while submitting the papers for
the competition: (IISE Northeast Region Paper Competition)
The deadline for paper submission is March 13, 2023.
The Oral Presentation portion of the competition will be conducted between 10:00 am and
1:00 pm on Saturday, March 25. The best papers will be announced at the Saturday Dinner.  The
winners of the competition will have the opportunity to present their papers to the entire
conference on Sunday morning.
About IISE:
The Institute of Industrial and Systems Engineers (IISE), the world's largest professional
society dedicated solely to the support of the profession, is an international, nonprofit
association that provides leadership for the application, education, training, research, and
development of industrial and systems engineering.
Founded in 1948, IISE helps its members improve complex organizations around the world and
across industries. Throughout their careers, members turn to IISE for tools and connections that
provide an integrated and systemic perspective to business challenges. Solving complex
problems is our common objective.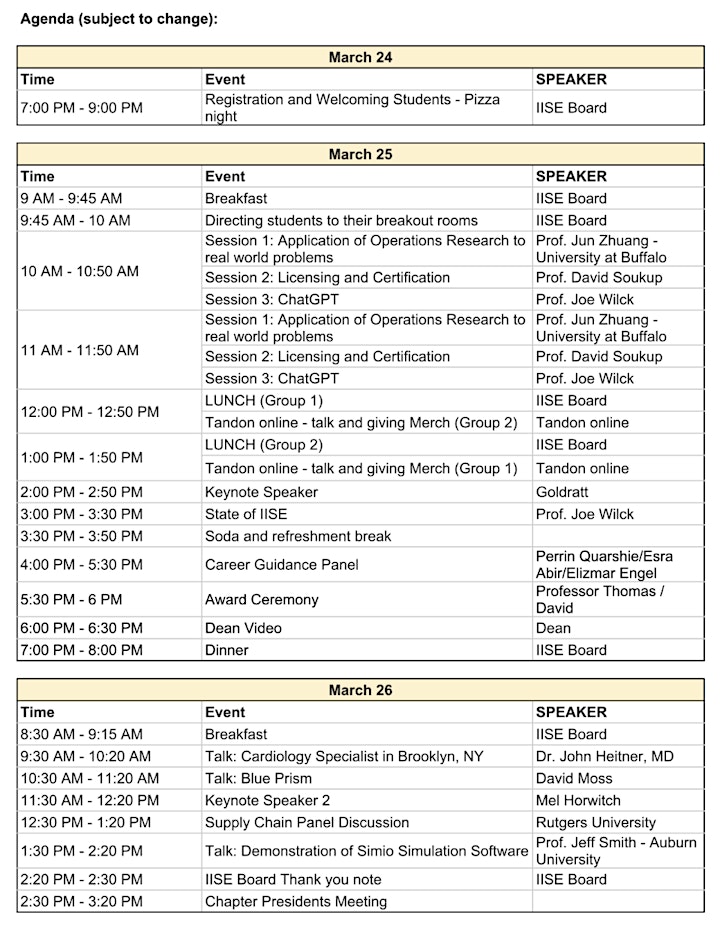 Organizers
About the Organizers
The NYU Tandon School of Engineering Office of Student Leadership & Engagement (OSL&E) exists to support the academic goals of the School by providing services and programs designed to enhance and maximize students' co-curricular educational opportunities. All programs and services are designed and implemented with the aim of creating a rich educational environment, infused with the core values of: community engagement and civic responsibility, diversity and cultural competency, innovation and creative thinking, interpersonal and leadership development, and connection to the global network university. OSL&E strives to increase student satisfaction in Brooklyn, assist in the retention of students leading to graduation, and provide opportunities for students to develop essential life skills.
Visited 2 times, 1 Visit today