Event Description
DSLBD & the DCSBDC are partnering to bring stronger (free) technical assistance and support to DC's Small Businesses & Entrepreneurs in 2021
The Department of Small & Local Business Development (DSLBD) is proud to partner with DC's Small Business Development Center (DCSBDC) to amplify the free technical assistance available to DC small businesses and entrepreneurs.
We continue our commitment to the support of small businesses working hard to survive, pivot, and thrive. This information session will offer a highlight of the technical assistance available to small businesses, and offer a preview of how DCSBDC and DSLBD can support you.
But you don't have to wait! You can sign up now.
You might also find it helpful to connect with these additional partners:
And numerous other organizations (CDFIs, BIDS, Chambers of Commerce, Main Streets and many more great organizations) also offer free technical assistance and support on specific topics and/or for specific types of DC-based businesses.
If you have questions about this information session or are looking for help on knowing where to connect to support, please feel free to reach out to DSLBD's Innovation & Equitable Development office at Inno.ED@dc.gov and we will seek to assist you.
Organizers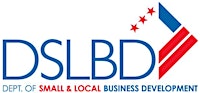 Department of Small & Local Business Development
About the Organizers
The DC Department of Small & Local Business Development is a DC government agency that provides support, training, and technical assistance to all small and local businesses and aspiring entrepreneurs in the District.
Visited 21 times, 1 Visit today