Event Description
The world of ecommerce is growing – how are brands marrying traditional advertising with ecommerce?
Ecommerce & Retail
From retail media networks to shoppable social, the world of ecommerce is growing. How are brands marrying traditional advertising with ecommerce and retail opportunities? More details to come.
Moderator: Briana Finelli, Head of Commerce, Wavemaker
Speakers
Sabiha Tudesco, VP, Business Development, Fluent
More speakers to be announced.
IN-PERSON Member Ticket: $50 | IN-PERSON Non-Member Ticket: $75 | IN-PERSON Young Executive: $30
VIRTUAL Member Ticket: $25 | VIRTUAL Non-Member Ticket: $50| VIRTUAL Young Executive: $15
*Eventbrite fees will be added to your total.
Please note: A Vaccination Card and Valid ID will be required to enter
MEMBERS – To unlock your member pricing code, please sign into your She Runs It member account and enter your access code on the registration page.
**REFUND POLICY: Tickets are non-refundable when less than two weeks from the event date.
Organizers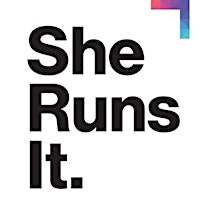 About the Organizers
Our Story We believed in the power of women well before they had a seat at the table. She Runs It was founded in 1912 as League of Advertising Women (later named AWNY), by journal editors Christine and J. George Frederick as a counter to the exclusive, all-male Advertising League. Designed to encourage and promote women's role in the advertising industry, the club held classes and dinners with presentations on advertising best practices, and gave scholarships to encourage girls to pursue degrees in advertising during a time when women weren't even allowed in many universities. Since then, we have re-branded as She Runs It. Our community has grown beyond advertising to all facets of marketing, media and tech. We've also expanded beyond New York, first to Chicago with our eyes on national expansion.
Visited 20 times, 1 Visit today