Event Description
Join us for Mastering Leadership: Emotional Intelligence, Presented by the She Runs It Northeast Leadership Development Committee
Successful leadership requires a lot of intelligence: industry intelligence, product intelligence, competitive intelligence. But perhaps the most critical component of a leader's overall IQ is his or her emotional intelligence. EI is an ability to perceive, control, and evaluate emotions. It enables someone to relate to colleagues, motivate teams, resolve conflict, inspire action, and galvanize people behind a mission. While some believe EI is gifted at birth, others believe it can be learned and nurtured. A few of those believers will lead a discussion with She Runs It on March 31 to explore ways to confirm and cultivate the EI that exists inside everyone.
Heather Thomas, Managing Partner, OVID, will share insights in the Workshop: Diplomatic Disagreement: How Emotional Intelligence Can Help You Master Difficult Conversations, followed by a fireside chat with Pooja Midha, Chief Growth Officer, Comcast Advertising. More speakers TBA.
*Tickets:
IN PERSON:
Young Executive: $40 I Member: $60 I Non-Member: $80
(In-Person ticket sales end on March 11, 2022 at 5PM ET. No In-Person tickets will be sold past that point)
VIRTUAL:
Member and Young Executive: $20 I Non-Member: $40
*Eventbrite fees will be added to your total.
All latest required COVID protocols to be observed; necessary details to be posted closer to event date.
Organizers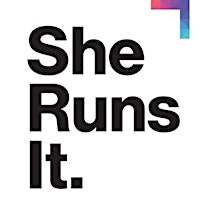 About the Organizers
Our Story We believed in the power of women well before they had a seat at the table.She Runs It was founded in 1912 as League of Advertising Women (later named AWNY), by journal editors Christine and J. George Frederick as a counter to the exclusive, all-male Advertising League. Designed to encourage and promote women's role in the advertising industry, the club held classes and dinners with presentations on advertising best practices, and gave scholarships to encourage girls to pursue degrees in advertising during a time when women weren't even allowed in many universities. Since then, we have re-branded as She Runs It. Our community has grown beyond advertising to all facets of marketing, media and tech. We've also expanded beyond New York, first to Chicago with our eyes on national expansion.
Visited 16 times, 1 Visit today