Event Description
2022 HITLAB Summer Innovators Summit: The Everchanging Face of Digital Care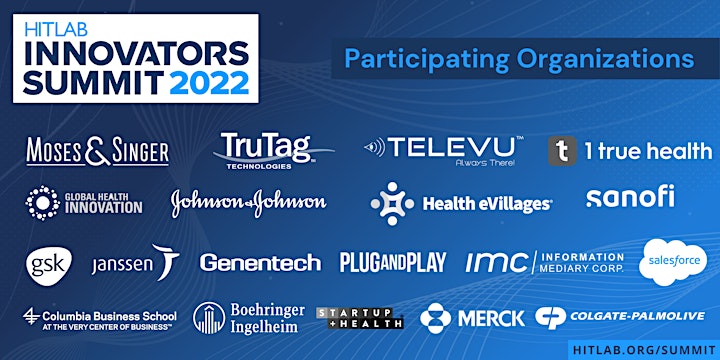 HITLAB Presents the FIRST Summer Innovators Summit: The Everchanging Face of Digital Care
HITLAB's 2022 Summer Innovators Summit includes one full day of virtual networking sessions, panel interviews, keynote addresses from industry leaders such as Merck, GSK, Novartis, American Medical Association, Amazon, Columbia University, Downstate and many more.
Why should you attend?
The interactive summit will feature:
40+ speaker/panel sessions
Focused breakout workshops and a digital cocktail hour
Opportunities to network with 1000+ health leaders, innovators, scientists, academics, biopharmacists, venture capitalists and others from across the ecosystem
An exclusive book Q&A and giveaway
An Innovator's showcase featuring the candidates from HITLAB's Spring 2022 Breakthough Alliance Challenge
Additionally, the agenda will include real time discussions exploring the most relevant topics for digital health innovators and business leaders. Sessions such as:
The rise and future of Women's Health Tech, opportunities and and examples
Creating Health Equity through digital technology
Medication Adherence
Building patient trust
Health Tech Adoption and Integration: Challenges, Opportunities and Advice
Some of the featured speakers include:
Amanda Azadian, Product Manager, American Medical Association
Laura Fritsche, Digital Health Strategy, American Medical Association
Dr Jason Lazar, Vice Dean, SUNY Downstate College of Medicine
Bill Taranto, CEO Merck Global Health Innovation Fund
Lorraine Marchand, Author of The Innovation Mindset
Sara Chokshi, Head of Research, HITLAB
Michael Petersen, CEO Information Mediary Corp.
Linda A. Malek, Partner, Moses & Singer LLP
Zina Manji, Sr. Director Regulatory Affairs, GSK
Judy Keen, Director of Healthcare Association, Engagement & Innovation, Novartis
Meg Columbia-Walsh, Director World Wide Revenue Generation, Amazon Web Services
Barry McDonogh, SVP Business Development, TruTag Technologies
Shawn Smith, CEO, 1 True Health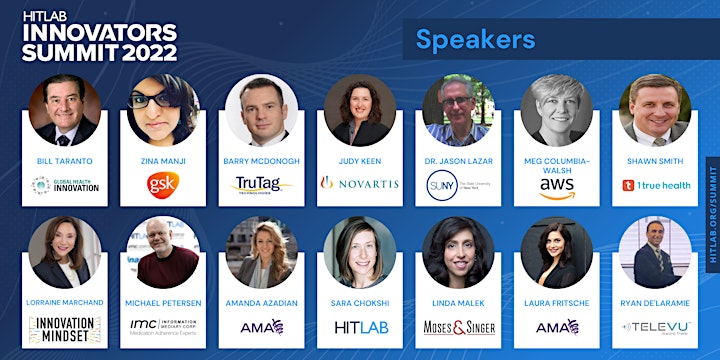 Join the only conference in the world that focuses on the diffusion of digital technologies in the healthcare system. Learn from the world's preeminent technologists, entrepreneurs, designers, data scientists, bioinformaticists, biomedical engineers, professors, venture capitalists, and public health professionals who are on the front lines of identifying, validating, integrating, and scaling emerging technologies that are improving patient outcomes.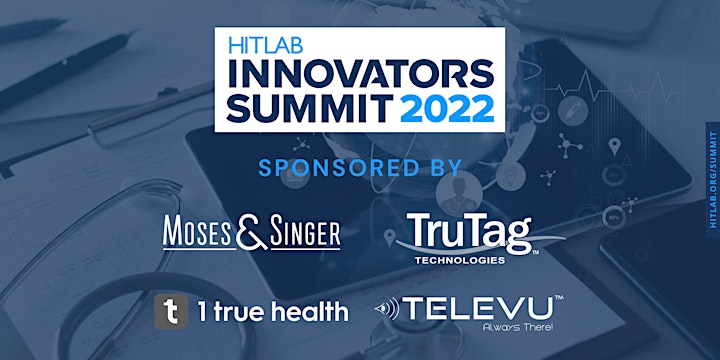 *Media Disclosure
HITLAB reserves the right to use any photograph/video taken at any event sponsored by HITLAB, without the expressed written permission of those included within the photograph/video. HITLAB may use the photograph/video in publications or other media material produced, used or contracted by HITLAB including but not limited to: brochures, invitations, books, newspapers, magazines, television, websites, etc. You are agreeing the media policy upon entering the event; further details are available at the event or at hitlab.org/media-disclosure.
Organizers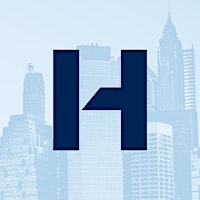 About the Organizers
At HITLAB, we believe technology and health can work together to improve the quality of health delivery and healthcare worldwide.
Visited 17 times, 1 Visit today