Event Description
GSE Global Investment Summit
Date: September 30, 2021 Time: 10am-12pm EST
ATTN: 2nd Annual GSE Global Investment Summit
LOCATION: Virtual
Case Study Live Investment Opportunity: https://www.startengine.com/global-startup-ecosystem
The Global Investment Summit is an international program for expert-led debate between global leaders, investors and innovators with the power to shape the future of global investment. It is focused on connecting investment leaders to growth opportunities and disruptive initiatives that address global challenges at scale.
This 2021 edition of the Global Investment Summit will share the new platforms for investment- from crowdfunding to crowd equity raises to multi country cross investment raises and more. This annual event will celebrate and connect leading investment leaders to the GSE network of entrepreneurs, corporate partners, government officials and influencers. ​​​
Last year's 2020 edition addressed the volatile global economy and shift in the investment landscape that transpired due to the scale of the 2020 global pandemic. With bankruptcies and unemployment at record highs, speakers identified the role of the investment community to support these challenges and kickstart industries, businesses and global economies.
The speaker line up for 2021 includes:
Archana Gilravi: Vice President,Sheryl Sandberg and Dave Goldberg Foundation
Matt Cohen – Founder and Managing Partner at Ripple Ventures
Radhika Malik: Investment Director, Samsung Catalyst Fund
Vikram Gandhi: Senior lecturer – Harvard Business School
Andrew Clapp: Managing Partner, Brightside Venture
Ernst Sack: Partner Blue Bear Capital
Alex Lazarow: Investment Director -Cathay Innovation
Jon Simon, Managing Partner, Total Impact Capital
K.P Reddy: Civil Engineer, Entrepreneur and Investor, Shadow Ventures
Parth Desai: Principal – Flare Capital Partners
Christine Ntim: Founder and CEO- Global Startup Ecosystem
Jonathan Gordon: Managing director, Winter Street Ventures
Laina Raveendran Greene: Co-founder, Angels of Impact
Einstein Ntim: Partner, Africa Future Fund
Cheryl Campos: Head of Venture Growth & Partnerships Republic
Jonny Price VP of Fundraising at Wefunder
Josh Amster Title: VP of Fundraising at StartEngine
Judd Hollas: CEO EquityNet
Aaron Kellner Director AT SeedInvest
Christine Tao: CEO -Sounding Board and Venture backed startup
Petia Abdul-Razzaaq- Digital Marketing Strategist I Grow with Google Speaker I Adjunct Instructor.
Ryan foland : Author and Professional speaker.
Hannah Subayi Kamuanga:Country Officer & Equity Expert, PROPARCO Partner – Dazzle Angels
Jim King: President and CEO, Fahe
Geoff Whaling: Chair, National Hemp Association & President, Pennsylvania Hemp Industry Council.
Dawn Weisz: CEO-Marin Clean Energy.
Chrystel Cornelius CEO-First Nations Oweesta Corporation
Annie Donovan: Chief Operating Officer, Local Initiatives Support Corporation
Kyle Adkins: Partner, FullCycle Climate Partners
Sabrina Lamb: Founder, Executive Director, WorldofMoney.org
No refunds.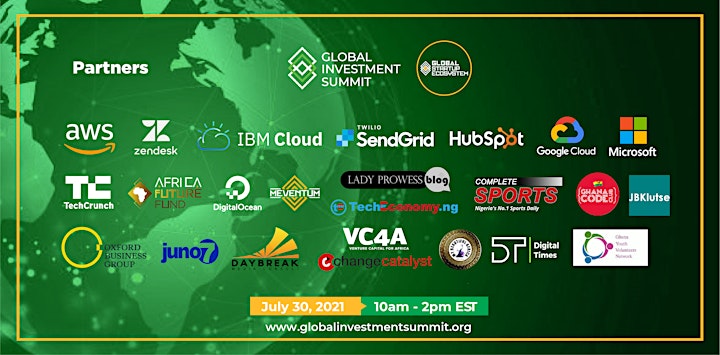 As a high level premier summit, we curate an active network of investors, tech entrepreneurs, celebrities, politicians and business moguls tackling Government Innovation. As an affiliate to the Global Startup Ecosystem; Europe Future Summit boast a speaker network that includes: Jack Dorsey (Founder of Twitter), Ben Horowitz (Investor Twitter, Facebook), Tim Draper (Investor in Skype, Hotmail etc); Naveen Jain (Founder of Moon Express, Viome etc.); Current President of Haiti Jovenel Moise; Vicky Jeudy from Netflix Orange is the New Black; and VP+CEOs from Google, Facebook, Airbnb, Uber and more.
GSE Global Investment Summit
(E) events@globalstartupecosystem.com
Organizers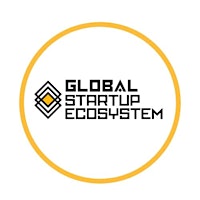 About the Organizers
Global Startup Ecosystem (GSE): is the world's largest ecosystem accelerator. With a mission to educate, inspire and prepare startup communities for the digital age, GSE brings together both private and public stakeholders to address humanity's greatest challenges via tech and entrepreneurship.
Visited 12 times, 1 Visit today