Event Description
The Congressional Hispanic Leadership Institute (CHLI) will host its Future Leaders Conference on Thursday, July 28th 2022
Each summer, CHLI's Future Leaders Conference (FLC) brings together Congressional speakers and distinguished corporate executives, Capitol Hill staff, and leaders in public service. The conference for young professionals and college students provides leadership development and networking opportunities.
This year's theme, "Shape Your Future" captures the hope and possibilities students have in truly crafting the lives and careers of their choice.
For those choosing to join us in person, the conference will be taking place at the following location:
National Association of Boradcasters
1 M Street, SE, Conference Center, 10th floor
Washington, D.C. 20003
The conference will conclude with the presentation of the Wendy Martinez CHLI Alumni Community Engagement Award to an alumnus in recognition of their ambassadorship of CHLI's mission, purpose, and focus.
This year's Future Leaders Conference speakers will be announced soon.
Organizers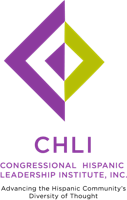 Congressional Hispanic Leadership Institute (CHLI)
About the Organizers
The Congressional Hispanic Leadership Institute is the premier organization founded by Members of Congress and Corporate Leaders to advance the Hispanic community's economic progress with a focus on social responsibility and global competitiveness.  Founded in 2003, CHLI is a 501(c)3 non-profit and non-partisan organization. CHLI is dedicated to fostering a broad awareness of the diversity of thought, heritage, interests and views of Americans of Hispanic and Portuguese descent. We prepare, connect and honor leaders. For more information visit  www.chli.org
Visited 11 times, 1 Visit today