Event Description
Emerging leaders define the future of the Circular Water Economy and see the latest research on of water engineering, policy and management
The Water Environment Federation (WEF) is a UN Water Partner. In alignment with UN Water 2023 in NYC, WEF has partnered with NYU to provide a forum for emerging leaders to help foster a transition to the circular water economy. This forum will feature an interactive session about defining the circular water economy concepts for 2030 and beyond, followed by networking and student poster presentations. The forum will conclude with insights on how to build a circular water economy and an award presentation for the best student posters.
WEF's vision is a Life Free of Water Challenges. In the WEF strategic plan, four core values are identified:
Collaborate for Collective Impact.
Focus on Customers Through Empathy and Service
Lead Boldly with Purpose and Agility
Integrate Diversity, Equity, and Inclusion in All that We Do
There are three goals in this new strategic plan.
Attract and develop a diverse and passionate water workforce
Cultivate a purpose-driven community to sustainably solve water challenges for all
Lead the transformation to the Circular Water Economy
WEF will not have all the answers or address every issue relating to the circular water economy. Instead, we will lead the transformation to the Circular Water Economy by convening stakeholders and partners like NYU to craft WEF's Circular Water Economy framework and best practices, proliferating the framework and best practices, and championing adoption and eliminating barriers to Circular Water Economy adoption.
We all have a stake in the future of water. Our success in achieving the vision of life free of water challenges depends on your continued leadership – in embodying the values, in embracing this plan, in amplifying the stories of water, and in helping to change the status quo.
Organizers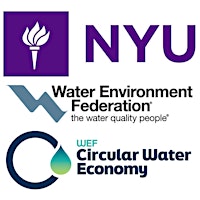 NYU Tandon School & Water Environment Federation
Visited 2 times, 1 Visit today