Event Description
Engineering X Design is a series of fireside chats with professionals who work at the intersection of design, engineering and technology.
Join us for a virtual chat with Rinat Sherzer, Social Entrepreneur, Educator, Keynote Speaker, and founder of Of Course Global. We will kick off the evening by learning more about Rinat and her professional journey throughout her multifaceted career as an interdisciplinary biotech engineer, ethical design strategist, social entrepreneur, and educator and speaker at many notable institutions including Parsons School of Design, Microsoft, Harvard, and University of Pennsylvania. Rinat will talk about her work in tackling complex social issues around equality, diversity and inclusion and how she utilizes the design process to inspire others through her work. The audience will then have the chance to ask her questions about her experience.
Engineering X Design is a series of fireside chats with professionals who work at the intersection of design, engineering and technology. Through this informal series, we hope to encourage cross-disciplinary conversations about problem solving and innovation between our guests, NYU Students and outside visitors.
More about Rinat Sherzer
Rinat Sherzer (Top 40 Women Keynote Speakers of 2020, according to Real Leaders Magazine) is an Adjunct Professor at Parsons School of Design, NY and the founder of Of Course Global, a social innovation design consultancy, helping businesses be a force for good in society. Among their clients are: Capital One & Pfizer. She is a passionate keynote speaker and has lectured in Microsoft, Harvard and University of Pennsylvania among others. In her practice, Rinat combines principles from Biomimicry & Human Centered Design to create a cultural shift towards an egalitarian society by exploring the menstrual cycle and de-shaming it, which she explained further in her TED Talk: The Bloody Taboo With The Power To Change The World.
Her latest project 'What Would The Egg Do?' is a series of initiatives: an exhibition, documentary, education curriculum, business workshops and a book – all exploring how 'nature-inspired solutions' can lead to a healthier planet & human equality. The exhibition curated by Rinat is presented in the XReality Center of The New School and opens Women's International Day 2021. Rinat holds a Bachelor's degree in Biotechnology Engineering from Ben-Gurion University, Israel and an MFA in Design for Social Innovation from SVA, NY. She mentors women from all over the world, helping them reclaim their power.
**All MakerSpace Design Lab Workshops will be held ONLINE for the Spring 2021 semester. A zoom link will be sent out to all participants before the event.
Organizers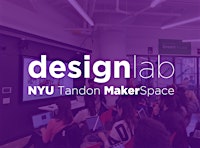 Design Lab @ NYU MakerSpace
About the Organizers
The NYU MakerSpace is a cutting edge lab aiming to foster projects at the intersection of technology, creativity and innovation. It features rapid prototyping and PCB production equipment, as well as advanced machining and testing capabilities. The MakerSpace hosts the Design Lab which provides NYU students with opportunities to ideate, experiment, prototype, and build their ideas.
Visited 9 times, 1 Visit today