Event Description
Les successions transatlantiques : comment s'y préparer ?
L'expatriation apporte son lot de questionnement, notamment en matière de successions : quelles lois s'appliquent ? Françaises ou américaines ?
Le jeudi 8 décembre à partir de 18h30 se déroulera au consulat général de France à New York une conférence juridique pour y voir plus clair et vous aider à préparer votre succession.
La conférence sera animée par Richard Ortoli, avocat au Barreau de New York spécialisé dans les successions à Rosenstadt LLP, François Burneau, notaire à GMH Notaires à Issy-les-Moulineaux et Mélissande Doehler, Directrice à Coutot-Roehrig International.
Ils aborderont les différents aspects des successions transatlantiques ainsi que les questions de recherche d'héritiers et seront disponibles pour répondre à vos questions.
Cet évènement gratuit est ouvert à tous sur inscription.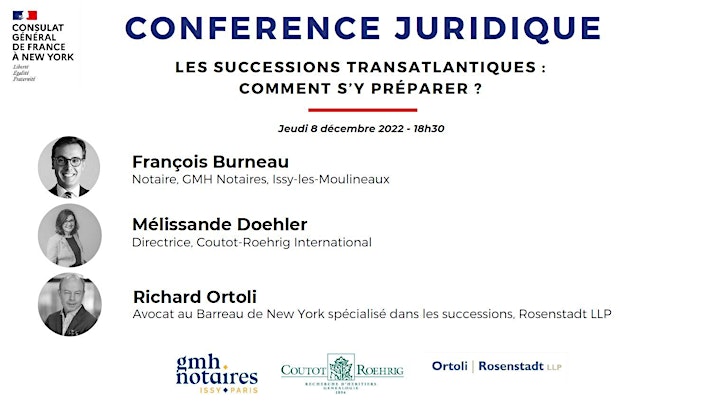 Organizers
Consulat Général de France à New-York
About the Organizers
The Ministry for Europe and Foreign Affairs is the ministry of the Government of France that handles France's foreign relations.
Visited 5 times, 1 Visit today