Event Description
In a global food crisis, Africa's opportunity for a climate-smart future.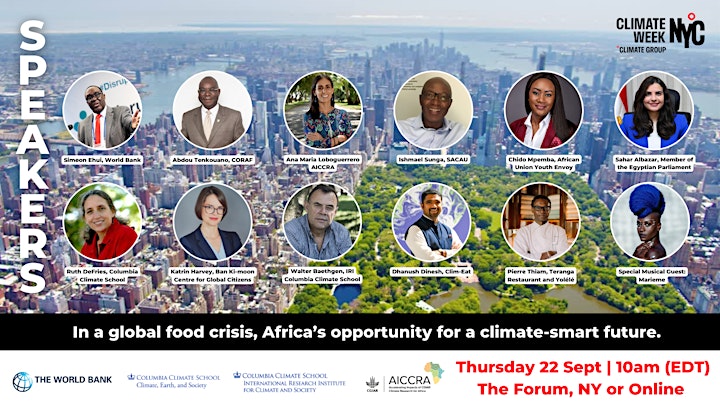 Accelerating Impacts of CGIAR Climate Research for Africa (AICCRA), the World Bank and Columbia University's Climate School host a hybrid event for Climate Week NYC 2022.
Coinciding with the United Nations General Assembly and on the cusp of the UNFCCC COP27 climate change summit in Sharm El-Sheikh, this event provides an ideal opportunity to put climate action in Africa on the global agenda.
Faced with a food crisis driven by conflict, covid and climate change, we as a global community must radically accelerate action for climate-smart agriculture.
Africa has vast amounts of untapped arable land ripe for agriculture. But the continent is also at the forefront of the climate crisis, with temperatures rising faster there than anywhere else on Earth.
Only by rapidly scaling climate-smart agriculture can African farmers produce enough nutritious food that supports decent livelihoods and resilient communities in ways that limit greenhouse gas emissions and reverse the degradation of nature.
By doing so, the world can diversify food supply, limit acute hunger and alleviate inflationary pressures.
This event will bring together speakers from the worlds of politics, science, social activism, and journalism to collectively craft a common message on what Africa's global partners need to deliver at UNGA and COP27.
AICCRA helps deliver a climate-smart African future driven by science and innovation in agriculture. In this event, attendees will understand how fifty years of innovation led by CGIAR—the world's largest research partnership for food security—is only just the beginning, and how projects like AICCRA go beyond innovation, working with hundreds of partners to scale and deploy innovation so that it reaches smallholder farmers be they women, men or youth.
Columbia Climate School and the many initiatives and centers it hosts—including the International Research Institute for Climate and Society (IRI)—are indispensable partners for the science and research that supports climate-smart agriculture worldwide. Working with partners from government, the private sector, development organizations, NGOS and research bodies like CGIAR, Columbia develops and inspires knowledge-based solutions and educate future leaders for just and prosperous societies on a healthy planet.
About Climate Week NYC 2022 (September 19 – 25)
Climate Week NYC marks its fourteenth year as the biggest global climate event of its kind, bringing together the most influential leaders in climate action from business, government, and the climate community through more than 500 events spread across ten themes, happening both in New York and around the world. It coincides with the United Nations General Assembly (UNGA). Climate Week NYC creates an ambitious platform for our mission to drive climate action. Fast. The 2022 theme is all about 'Getting It Done'.
Program:
10:00 | Registration
10:30 | Welcome
10:35 | Opening remarks
10:43 | Keynote speech
10:50 | Panel discussion
11:50 | Fireside chat
12:20 | Food story
12:35 | Musical performance by Marieme
13:00 | Lunch served by Teranga
14:00 | Event ends
Speakers
> Simeon Ehui – Regional Director for Sustainable Development, Western and Central Africa, World Bank
> Abdou Tenkouano, Executive Director, CORAF – The West and Central African Council for Agricultural Research and Development
> Ana Maria Loboguerrero – AICCRA Director
> Ishmael Sunga, Chief Executive Officer of the Southern African Confederation of Agricultural Unions (SACAU)
> Ruth DeFries, Co-founding Dean, Columbia Climate School
> Chido Cleopatra Mpemba – African Union Youth Envoy
> Sahar Albazar, Member of the Egyptian Parliament, Deputy Chair of Foreign Affairs Committee, and President of the Forum of Young Parliamentarians
> Walter Baethgen – Senior Research Scientist, International Research Institute for Climate and Societey, Columbia Climate School
> Katrin Harvey – Chief Operating Officer, Ban Ki-moon Centre for Global Citizens
> Dhanush Dinesh – Founder, Clim-Eat
Special Musical Performance
> Pierre Thiam, Chef, Author and Social Activist, Teranga Restaurant and Yolélé
> Marieme Diop, Senegalese-American Singer and Songwriter
(Program and speaker line-up are subject to change)
Organizers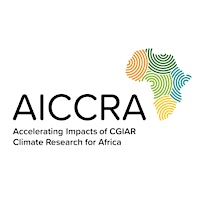 About the Organizers
Accelerating Impacts of CGIAR Climate Research for Africa (AICCRA) helps deliver a climate-smart African future driven by science and innovation in agriculture.
Visited 3 times, 1 Visit today