Event Description
What's Next for Sustainable, Digital, and Experiential Packaging?
The rapid acceleration of sustainability in every sector of our economy and society is potentially transformative for Greater Cincinnati. It is creating scalable opportunities to drive both near- and long-term investment, business and job creation, talent magnetism, and competitive advantage as a region. This session will unpack the innovation in the sustainable product packaging industry.
One fast-growing area in which Cintrifuse is developing concrete strategies for local startup growth is sustainable product packaging. Startups everywhere are not only pushing a wave of material science innovation around products — for example, new Cintrifuse member "Responsible Products" has launched in less than one year over 70 SKUs of highly biodegradable plastics and take-out containers— but also pushing the frontiers of so-called so-called "multi-sensory experiences." Thanks to next-generation labels, voice activation, gamification, augmented and virtual reality, and the digital wonders of radical transparency, packaging is coming to life in ways we never dreamed of before.
About the Speakers
Pete Blackshaw is CEO of Cintrifuse, the syndicated venture fund and startup catalyst dedicated to making Greater Cincinnati the #1 startup hub in the Midwest and a top innovation center in the nation. Pete joined Cintrifuse from Nestlé, S.A. in Switzerland, where he was Vice President of Digital. He created Nestle's industry-recognized Digital Acceleration Team (DAT), Silicon Valley Innovation Outpost (SVIO), and Open Innovation Platform (Henri@Nestle). Pete earlier served as CMO of NM Incite, a joint venture between Nielsen and McKinsey.
Kim Raath is Founder and CEO of Topl. Founded in 2017, Topl is building an impact technology economy that enables digital and sustainable transformation across value chains and empowers the monetization of impact verified on the Topl Blockchain. Kim grew up in South Africa and comes from an ethical mining and sustainable agricultural background. She is the first Rice University student to simultaneously complete an M.A. in Economics and a Ph.D. in Statistics. Before university, Kim worked in 18 developing countries to rebuild and strengthen communities by implementing innovative forms of technology. As a leader in sustainability, Kim is a member of CNBC's ESG Council and also sits on the advisory board of Xpansiv the global market for ESG-inclusive commodities. As CEO, Kim innovates around every problem that arises and continuously finds ways to grow the entire Topl ecosystem.
Elyse Dierking Strategy Director at LPK. LPK's resident hybrid, Elyse, brings a decade of experience and a unique, duel-pronged approach to brands, synthesizing deep knowledge in industrial design and insights-driven strategies to solve wicked business challenges. As Strategy Director, Elyse leads qualitative research initiatives to drive smarter decision-making for a diverse LPK client roster, including Titleist, Olay, GE and Fifth Third Bank, among others. When she's not doting over her houseplants and cacti, you can find her feeding an insatiable appetite for information—from podcasts about the brain and culture to courses on crafts. Prior to joining the strategy practice at LPK, Elyse served as an intern on the product experience team. She holds a degree in industrial design from the University of Cincinnati's College of Design, Architecture, Art and Planning (DAAP).
Nate Sedgwick is the Founder & CEO of Responsible Products, a Cincinnati-based manufacturer of compostable foodservice packaging. Their products are made from renewable plant materials, require fewer resources to produce and reduce pollution and plastic waste. Prior to Responsible Products, Nate served as CMO to one of China's leading manufacturers of molded fiber packaging, working with many of the largest foodservice packaging companies throughout North America, Europe and Asia to develop and manufacture their sustainable product lines. Nate has traveled to and worked with packaging companies in 20+ countries around the world. Aside from Responsible Products, Nate is also the Managing Director of Sourcing Mojo, a full-service consulting firm based in Xiamen, China that helps corporations around the world manage product sourcing throughout Greater Asia.
Carie Davis is the Founder and General Partner of Futureproof. She is a former structural packaging designer for Coca-Cola and has worked for 20 years in R&D, design and entrepreneurship. She is now focused on investing in founders building solutions to advance the circular economy across the plastics and packaging value chain with a focus on new consumer models, compostables, refillables and reusables.
About Cintrifuse
Cintrifuse is on a mission to make Greater Cincinnati the #1 tech startup hub in the midwest and among the most attractive innovation hubs in the nation.
Organizers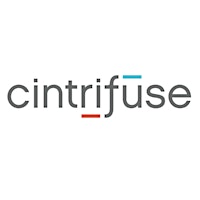 About the Organizers
We are an innovation community designed to launch Cincinnati startups by connecting our active network of talent to funding, resources & coworking space.
Visited 19 times, 1 Visit today