Event Description
Choosing the Right Legal Structure for your Business
This workshop includes an in-depth discussion about the pros, cons, and tax implications of the available legal structure options for small businesses in New York State, such as sole proprietorship, partnership, "c" or "s" corporation, and the limited liability company (LLC), so you can determine which one is best for you.
Class Duration: 1 Hour
Please note: This is an online webinar. You will receive the details needed to join within 24 hours of the scheduled start time. To receive these details you MUST register beforehand.
Organizers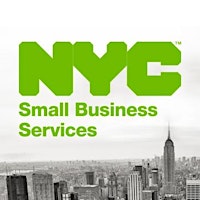 NYC Department of Small Business Services
About the Organizers
The NYC Department of Small Business Services helps unlock economic potential and create economic security for all New Yorkers by connecting New Yorkers to good jobs, creating stronger businesses, and building thriving neighborhoods across the five boroughs. You can register for all of our free events and courses, including BE NYC and WE NYC events on Eventbrite. For questions about individual courses or to register over the phone, please contact our staff at one of our NYC Business Solutions Centers . For more information on all of our services, call 888-SBS-4NYC (888-727-4692) or visit nyc.gov/sbs .
Visited 8 times, 1 Visit today