Event Description
Business and Technology Essentials for Entrepreneurs
**Discounted prices available for Miami Dade College Students, Faculty, Staff & Alumni. Please contact BIT Manager at bitcenter@mdc.edu to receive promo code.**
Price: MDC current degree-seeking students $150, MDC Faculty, Staff & Alumni $200, Community Members $300
COURSE OVERVIEW
In today's digital era, technology has augmented the essential skills required by successful entrepreneurs. Whether you are managing a start-up or an established business, technology has changed consumers' decision-making process and interaction with the supply chain.
This course is a bootcamp format to learn or refresh the essential business skills leveraging technology. Specifically, we will cover the essentials of: 1) developing a competitive advantage with interactive industy profitability benchmarks; 2) designing a digital marketing strategy that includes social media, search engine optimization, and Google Analytics, 3) managing your sales process using Customer Relationship Management (CRM) such as Salesforce.com, 4) evaluating accounting, inventory and financial statements using QuickBooks and other accounting platforms, 5) evaluating operations management and integrating to the supply chain's underlying technology, 6) human resources tools to attract, manage, and retain the best people, and finally an overview of Blockchain technology and Artificial Intelligence and how they may be transforming your business.
INSTRUCTOR INFORMATION
Prof. Carlos Erban teaches Entrepreneurship, Supply Chain, Digital Marketing at Miami Dade College's Manny Fernandez Global School of Business. He holds a BS in Business from Florida International University with a double major in Marketing & International Business and an MBA from Harvard Business School with Concentration in Finance and Entrepreneurship. He is co-owner of Relocation Strategies and on the Board of the Harvard Alumni Angels (Chair of Screening Committee). He invests in start-ups and has also owned a restaurant, gas station & convenience stores. He started his career in Procter & Gamble, where he became Pantene Brand Manager in Latin America. He then joined PricewaterhouseCoopers Consulting, where he became Lead Manager for the Integrated Strategy practice for Philadelphia and Latin America. Led major projects for Fortune 500 companies in strategy, organizational redesign, and supply chain management. He held executive positions in successful start-ups (Floorgraphics, Entry Point Communications), leading its international expansion in over 15 countries.
https://www.linkedin.com/in/carloserban/
Learn the essentials of:
– Entrepreneurship by learning the process of launching a successful scalable start-up
– Digital Marketing including: Marketing strategy, search & display, social media, e-mail Marketing, and analytics
– Sales management using CRMs such Salesforce
– Accounting, Payroll, and Finance to understand financial statements using Quickbooks and ADP
– Inventory & Operations management integrating to the Supply Chain technology
– General Management by understanding the dynamics of the industry and designing a competitive strategy
– Human Resource Management by taking advantage of technology to recruit, train, and retail the best people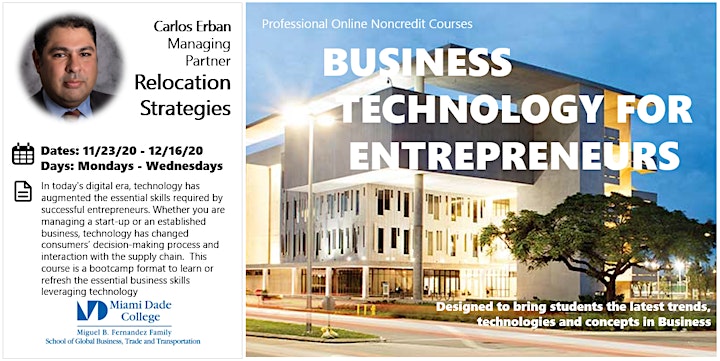 Organizers
the BIT Center at Miami Dade College
About the Organizers
Miami Dade College is a public college in Miami, Florida with eight campuses and twenty-one outreach centers located throughout Miami-Dade County.
Visited 32 times, 2 Visits today