Event Description
Do you really exist as a business if people can't google you? They have to be able to find you to buy from you! Learn How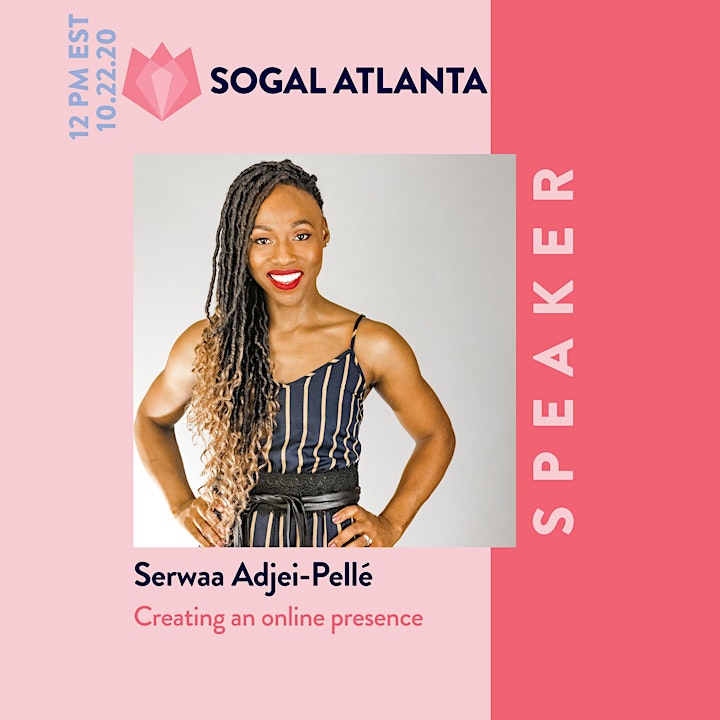 So, You Want to Learn How to Build an Online Presence From Scratch
Choosing the wrong platform at the beginning can cost you months in backtracking (not to mention the monetary cost of setting it up). Join us on October 22nd as Serwaa Adjei-Pelle walks us through the step by step process of establishing social media handles and creating a website from grabbing that Instagram handle to purchasing a URL, creating a template website, writing content, and publishing to your domain.
We hope to cover various perspectives and will dedicate time at the end of the presentation to Q&A from the audience. During this webinar, we'll …
✦ Hear about the process of establishing social media handles
✦ Creating a website from grabbing that Instagram handle to purchasing a URL
✦ Creating a template website, writing content, and publishing to your domain.
……and more!
Meet Our Speaker
Serwaa is a Business Strategist and Partner Consultant at PELLE + CO, where she works with SMBs to create and implement content and influencer strategies.
As founder and host of the She's Off Script digital platform, her podcast episodes have reached listeners in over 60 countries. She shares the journeys and business lessons of women who have forged unique blueprints for success. In addition to building a community, Serwaa has built partnerships with brands such as TULA Skincare, Adowa Beauty, McBride Sisters Wine and Black Girl Sunscreen to create targeted campaigns.
She previously served as a vice president at Goldman Sachs, managing commercial real estate investment operations for the Investment Banking, Private Equity, and Distressed & Special Situations businesses.
Serwaa received her BA in International Economics and International Affairs from the University of Colorado-Boulder and completed her MBA at Cornell University.
Serwaa is a native of Ghana, West Africa and resides in Dallas, TX with her two daughters and husband.
This event is FREE and for everyone.
Please RSVP. Zoom link: https://us02web.zoom.us/j/86466307362
Organizers

About the Organizers
SoGal Foundation is the largest global platform for diverse entrepreneurs and investors that provides resources, education and community for a 100K+ person network with chapters in 40+ cities across 5 continents around the world. We are built by an inspiring and fearless group of visionaries and executors, and have been featured in Forbes, Inc, Fortune, WSJ, and more. SoGal's non-profit mission is to close the diversity gap in entrepreneurship. SoGal is a champion for diversity & inclusion, and aims serve members from ALL backgrounds, particularly those traditionally underrepresented in entrepreneurship. All genders are welcome.----------------- SoGal does not tolerate harassment or offensive behavior at our events or on social media. We are committed to facilitating a welcoming environment for all participants, members, and attendees, regardless of gender, gender identity and expression, age, sexual orientation, disability, race, ethnicity, or religion. We have a zero tolerance policy; any failure to comply with this policy will result in immediate banishment from SoGal events and initiatives. Thank you for cooperation.  By attending a SoGal Foundation event, you are entering an area where photography, audio, and video recording may occur. By attending, you consent to photography, audio recording, video recording and its release, publication, exhibition, or reproduction to be used for promotional purposes, advertising, inclusion on websites, social media, or any other purpose by SoGal and its representatives. You release SoGal Foundation, its employees, and each and all persons involved from any liability connected with the taking, recording, digitizing, or publication and use of interviews, photographs, computer images, video and/or or audio recordings, and you waive all rights to any claims for payment or royalties in connection with any use of these materials. You also waive any right to inspect or approve any photo, video, or audio recording taken by SoGal or the person or entity designated to do so by SoGal. If you have any questions or concerns, please reach out to hq@sogalfoundation.com.
Visited 33 times, 1 Visit today